Developer agrees to revise plans for west London scheme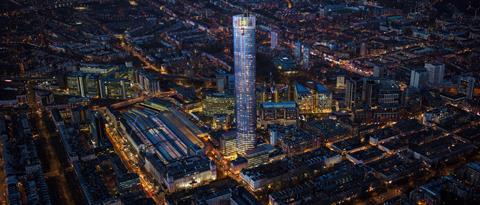 Sellar is to revise its Renzo Piano designed proposals for Paddington Place, including the height of the much-criticised cylindrical tower.
The decision comes after discussions between Irvine Sellar, its partner on the development Great Western Developments (GWD), and the leader and deputy leader of Westminster City Council.
Westminster City Council's planning committee will now not consider the planning application on 8 March.
The proposals, which included a 72-storey tower dubbed 'Paddington Pole', had secured the support of key stakeholders including Network Rail, Transport for London, St Mary's Hospital, NHS (London) and the Greater London Authority.
However, there were objections from the Royal Parks, the Victorian Society and Historic England, as well as local residents around the height and impact of the tower element of the scheme on the local area.
The leader of Westminster City Council, Cllr Philippa Roe, said it was a "positive step," adding that the decision would "allow time for us all to bring forward a development that enjoys broader community support" in a strategically important area of London.
However, she said that investment in this type of development is vital to create jobs and thriving businesses and can act as a "catalyst for additional investment and will really kick start and boost regeneration".
"As the local authority, we will always seek to strike the right balance between supporting successful schemes in Westminster, which will really benefit local people, London and the country for generations to come with the impact that development can have on existing communities.
"It is only through open dialogue and engagement between developers and local communities that, together, we will ensure Westminster's continued success as the economic powerhouse of London and a place where all should be able to benefit from the city's continued success," she said.
Sellar Property Group/GWD, stated: "We have always believed that successful development is a collaborative process, involving the developer, council and community and look forward to delivering a development in Paddington of which Westminster and its residents can be proud."
GWD, Sellar and Westminster are to issue the revised proposals shortly.