Project is part of the developer's wider plans for Camden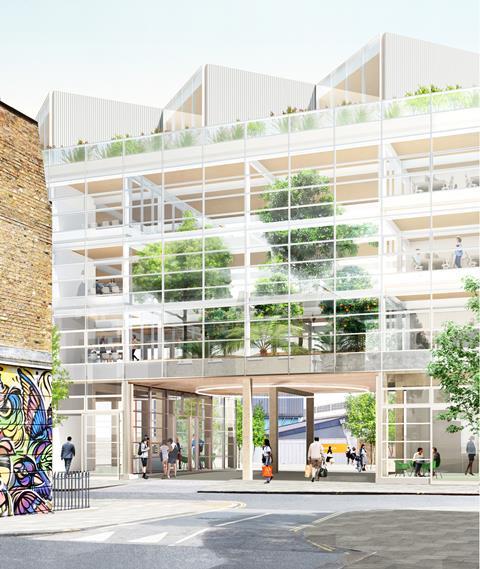 6a Architects' plans to refurbish and redevelop Nicholas Grimshaw's Grand Union House in Camden have been approved.
Camden council unanimously resolved to grant consent to the project which will provide 70,000sq ft of office space near the Grand Union Canal.
The building is part of the wider 1980s campus designed by Grimshaw which included a branch of Sainsbury's and terraced housing at Grand Union Walk, both of which were grade II listed in 2019 – the first supermarket to be protected in this way.
Grand Union House was omitted from the listing, with Historic England describing it as one of the least successful elements of the complex. It was originally intended for light industrial use but never served this purpose because of access limitations and instead became offices.
Shortly before the listing, Andrew Phillips Architects submitted plans to demolish part of Grand Union House but these were never built out.
6a's Tom Emerson said the practice's mixed-use redevelopment would reference Grimshaw's high-tech architecture.
The design provides employment space for more than 500 people across a new six-storey office and three commercial units along Kentish Town Road. The project also includes six new flats in a four-storey building, providing "affordable" homes on site.
Inside Grand Union House will feature new double-height office space and winter gardens rising through the building, with the internal spaces designed to maximise natural light and ventilation, including opening windows.
The plan is also to open up the site with improved connectivity through the neighbourhood and to "green" the development with landscaping from the street and service yard through to the roof.
Emerson said: "Our design takes a holistic approach to making workspace for the post-covid city, addressing wellbeing, ecology and biodiversity by ensuring access to landscape, daylight and fresh air."
The project is part of Shard developer Sellar's wider plans for the area.
Chief executive James Sellar said: "Another key focus for us has been the substantial carbon saving we can make in the construction of Grand Union House by retrofitting the existing building rather than knocking it down and starting from scratch."
Construction is expected to start in in the first half of 2022 and complete by the end of 2023.