London councils and handful of others exempt as government rolls out planning relaxation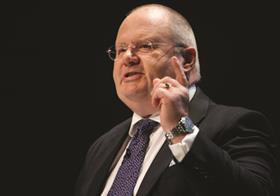 Communities secretary Eric Pickles has given 17 councils exemptions to rules coming into force at the end of the month allowing developers to change offices into homes without requiring planning permission.
A number of councils, particularly in London have argued against the relaxation in planning rules because of the possibility it could endanger efforts to promote economic recovery, by allowing business premises to be converted into housing.
Pickles said today the rules will come into force on May 30th, with 17 councils given exemptions, eleven of which are in London.
The rules allow High street premises to be used for new types of business without permission and existing agricultural buildings, under 500m2, will be able to be utilised for a range of new uses such as shops or offices, to provide more chances for rural businesses to diversify. Currently owners of business and agricultural premises have to apply to their local council for specific approval to change the use.
The new rules will also help sponsors of free schools turn business premises into schools.
The councils which have gained exemptions to the relaxation are, in London, the City of London and the London boroughs of Camden, Islington, Hackney, Tower Hamlets, Southwark, Lambeth, Wandsworth, Westminster, Newham, and Kensington and Chelsea.
Outside of London the borough councils of Vale of the White Horse, Stevenage, and Ashford; the district councils of Sevenoaks and East Hampshire; and Manchester City Council; have all also received exemptions.
Communities Secretary Eric Pickles said he had made the changes in order to unleash the huge untapped potential in disused existing buildings. He said: "We're providing a great opportunity for outdated, redundant or underused offices to be brought back to life by converting them into homes, protecting the green belt and countryside at the same time. This will also increase footfall and provide knock-on benefits to the wider community."
The controversial changes were immediately criticised by the Town and Country Planning Association, which it said risked undermining economic growth. Kate Henderson, TCPA chief executive said: "With housebuilding at its lowest levels since the 1920s and a desperate need to regenerate our high streets we understand the Government's desire to promote growth. However, new permitted development rights, which will allow change of use from offices to homes, may not leave sufficient space for employment nor create beautifully designed, affordable homes in the most sustainable locations."
However, the changes were welcomed by others, including the Country Land and Business Association, which represents rural landowners, and which said it has been lobbying the government to allow agriculatural buildings to be converted to other uses for "nearly a decade."