Steel specialist makes Netherlands hire as it reports near-doubling of profit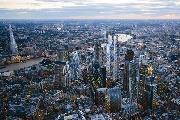 Severfield has progressed plans to enter the European market and employed a European business development director based in The Netherlands to help expand the business into the continent.
The structural steel specialist, which today reported an 87% jump in pre-tax profit to £18m for the year to April, up from £9.6m for the previous year, said it had hired a European business development director based in the Netherlands to help tailor the business offering for the European market.
Severfield also reported a 10% increase in revenue to £262m for the year, up from £239m. The firm attributed the rise predominantly to four major projects it worked on all with revenue in excess of £20m: the new roof for Wimbledon No. 1 Court, Tottenham Hotspur's new stadium, Lipton Rogers 22 Bishopsgate and a major new commercial head office building in London.
However, the company's UK order book is down 27% to £229m, from £315m in November last year, which the firm said actually reflected a return to more 'normal' levels.
"We have identified a number of significant projects across the commercial office, retail, industrial and distribution, and infrastructure sectors for the upcoming months."
Outside of the UK the firm's joint venture JSSL in India also made a profit for the year after tax of £0.2m, having recorded a loss of £0.3m last year.
JSSL's order book has also increased over recent months and stands at £73m.
The firm confirmed that work on the replacement of 4000 faulty bolts at the Cheesegrater completed during the year, with costs in line with the £6m it put aside to cover the work.
However, Severfield said that discussions were still ongoing with all the stakeholders to determine where the financial liability for the remedial costs should rest.
Alan Dunsmore, acting chief executive of Severfield, said: "Notwithstanding a reduction in new construction orders over the past few months and the impact of the general election, the UK market generally appears to be remaining stable.
Dunsmore added: "I am delighted to announce another set of excellent results which keeps us on track towards our target of doubling our 2016 underlying pre-tax profit by 2020.
"The current order book and pipeline, coupled with a continued stable market environment, will support further progress in the current financial year towards our 2020 target."