Revenue and underlying profit jump at steelwork contractor
Steelwork contractor Severfield has become the latest firm to turn its back on cash it could have claimed under the government's furlough initiative when it announced a strong set of half year results this morning.
The firm, which is helping build new stands at Premier League club Fulham's Craven Cottage stadium as well as Lord's cricket ground, was forced to furlough staff at the height of lockdown but said it had not claimed the money it was entitled to under the Coronavirus Job Retention Scheme.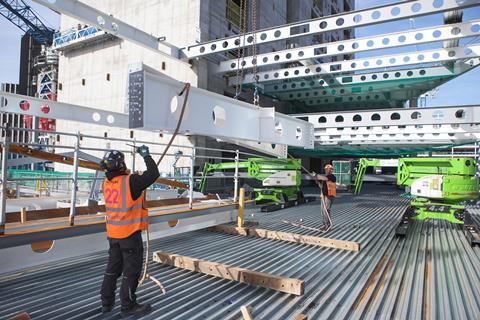 It said a strong financial position meant its PAYE liabilities and other tax deferrals, introduced by HMRC to help firms cope with cashflow problems caused by the pandemic, were up to date except for a VAT repayment of £3m which has been deferred by HMRC until its 2022 financial year.
Other firms in the sector who have either repaid the money they received from the furlough scheme or declined to accept it include Morgan Sindall, Redrow, Marshalls and Foster & Partners.
Severfield made a final dividend payment of £5.5m in September and said it would be making an interim dividend payment of 1.1 pence per share.
It ended the six months to 30 September with net funds of £19.5m, up from the £16.4m at the end of its last financial year in March.
The firm said revenue in the first half was up 40% to £186m, which the firm said was helped by its deal, completed last October, to buy £21m turnover Bolton firm Harry Peers for up to £37m.
In the first half, which covered the height of the first lockdown when dozens of sites shut down, Severfield said underlying operating profit was up from £7m to £9.5m.
But pre-tax profit slipped from £8.2m to £6.6m with the racking up non-underlying costs of £1.8m which included a £400,000 bill for the Peers acquisition.
Severfield said its order book at the beginning of November was £287m, up from the £271m posted at the beginning of June, with 68% of this figure for work in the UK and the remainder from Europe and Ireland.
Severfield said it worked on 80 projects during the period including its ongoing scheme at the Google headquarters in King's Cross for Lendlease and the Bankside Yards mixed-use scheme at Blackfriars for Multiplex.
It also working for Multiplex on an office development at Argyle Street in Glasgow while it has also won its first bridge contract on HS2.