Firm's products and processing business got up and running earlier this spring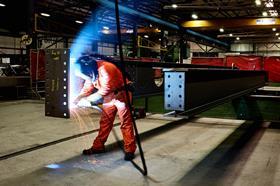 Steelwork contractor Severfield has said it is looking at increasing the scope of work it carries out in its products and processing business which it got up and running earlier this spring.
The firm has traditionally focused on projects where the amount of steel used has been a minimum of 800 tonnes with some of its current schemes including the work to build a new stadium for Tottenham Hotspur and the Coal Drops Yard retail scheme in King's Cross.
It also has £50m deal to supply up to 20,000 tonnes of steel for the new Google headquarters in King's Cross while it is coming to the end of a contract to supply a similar amount at the 22 Bishopsgate tower in the City of London being built by Multiplex.
Chief executive Alan Dunsmore said the firm has only bidding for around 300,000 tonnes of the current market and the new business would give it access to a further 300,000 tonnes, mainly small jobs below the 800 tonnes mark.
The business, which is based out of its Sherburn site in North Yorkshire, is supplying processed steel to smaller fabricators but Dunsmore said the firm was looking at increasing its involvement in the initiative. "It's early days but we're looking at doing more of the fabrication and welding ourselves. We're trying to deliver what clients want and learn about the market."
Dunsmore said it expects to grow its infrastructure order book on the back of jobs likes HS2 – where it is targeting work to help build the news stations and bridges required for the job – and the expansion of Heathrow Airport.
Severfield, which carried out the steel contract on T5, said its share of work in the sector had fallen to just 10% of income having once stood at around 30% when it finished the T5 deal more than a decade ago.
Dunsmore also confirmed it was still in discussions with main contractor Laing O'Rourke and engineer Arup about who foots the bill to replace faulty bolts on the Cheesegrater.
Severfield completed the work replacing the 3,000 bolts last year at a cost of £6m and Dunsmore added: "The argument is still dragging on. Lots of different lawyers are involved."
The Cheesegrater was one of a number of problem jobs which forced the firm to launch a £45m rights issue in 2013 after posting a near £20m loss. Half that amount related to its Cheesegrater job at 122 Leadenhall in the City of London.