Hotel at London's Shard skyscraper will now open in April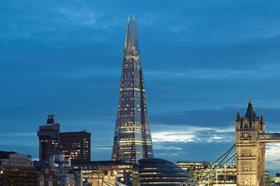 Luxury hotel group Shangri-La has pushed back the opening date of its under-development hotel at London's Shard skyscraper again, with the hotel now scheduled to open in April.
Shangri-La has repeatedly delayed the launch of the hotel due to delays on the £40m fit-out.
The client originally intended to open the hotel in the second quarter of last year, but this was pushed back to the fourth quarter 2013 last summer and then to the first quarter of this year.
The client has now updated its website to confirm the opening has been pushed back again to April.
A spokesperson for Shangri-La said: "The hotel's exact opening date is still being finalised and we look forward to sharing more information in the coming weeks."
Building revealed in September that the launch of the hotel was unlikely to happen in 2013 and a source told us at the time it was unlikely to open until "between February and April [2014]".
In September, fit-out delays caused Shangri-La to replace the contractor on the fit-out job, Sisk, with rival Chorus Group.
At the time a Sisk spokesperson said the firm was "looking forward to bringing [the] project to its completion but it was delayed for reasons out of our control".