More than 650 caught up in collapse after 50-year-old firm sank in June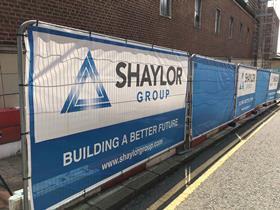 Shaylor Group collapsed owing £47m to almost 700 creditors, according to administrator FRP Advisory.
The £142m-turnover contractor laid off most of its 200 staff in June, when it keeled over after months of emergency talks.
The group, which was headquartered in Walsall, first turned to FRP in February as it sought more cash to keep the business afloat.
Now a statement of affairs published by FRP reveals that just four months earlier, in October last year, Shaylor's bosses sold a 55% stake in the company to an employee ownership trust for £13.5m in order to raise funds.
The sale was bankrolled by a loan from the only listed preferential creditor, Allied Irish Bank, which, FRP said, is now "anticipated…to suffer a significant shortfall" on the £14.5m it is owed.
Directors Stephen and his brother Richie Shaylor are each owed £5.4m while their sister Lana Shaylor is owed a further £540,000. Another director Paul Hooper-Keeley is owed £831,000, while a fifth director, Christopher Madden, is owed £1.2m.
FRP said it expects Shaylor's 672 unsecured creditors to receive just 0.39p for every pound they are owed – meaning almost all of the unsecured trade creditor debt of £19m will be written off.
Most of the money owed is to building merchants and subcontractors with those having to wear losses including Redditch mechanical contractor Hartle which is out of pocket by £821,000. Others owed include civil engineering specialist Barhale which is down by £166,000.
The group also went down owing £37,000 to Walsall borough council, while even Shaylor's local tearoom, Wilsons Tea Room, has been caught up in the disaster – owed £290.
FRP also lists the reasons given by firm's directors for its collapse. These include the failure of some subcontractors and increased payment disputes after taking on more private sector work.
Shaylor was set up in 1968 by the Shaylors' father Fred who died in 2013.