High Court case brought by local resident begins today, with decision expected early next year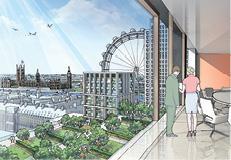 A legal challenge into communities secretary Eric Pickles' decision to approve Squire & Partners' Shell Centre scheme over the summer begins later today.
The High Court case has been brought by local resident and writer George Turner who claims Pickles' decision was flawed and will unleash a planning free-for-all on the South Bank.
He has brought the action against the secretary of state, as well as the mayor of London, Lambeth council, Shell and developer Braeburn Estates, a joint venture between Qatari Diar and Canary Wharf Group.
His challenge relates to affordable housing, the setting of heritage assets and open space.
In his particulars of claim, Turner says that "the nub of the issue is that by concluding that there was no harm caused to any heritage assets by this development [Pickles] was unable to perform his duties under the Planning Listed Building and Conservation Area Act which requires him to give 'special regard to the desirability of preserving' listed buildings and conservation areas".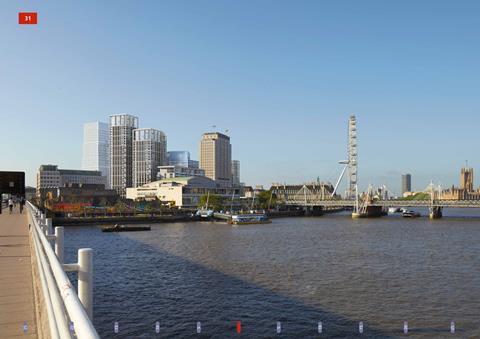 Turner, who has been given protection against costs, says that heritage assets affected include the Westminster World Heritage Site, the grade I listed Royal Festival Hall and the existing Shell Centre, calling Pickles' decision that "no harm" would be done to views and settings "perverse".
He adds that the planning inspector's statement that the development would not be "visually intrusive" in views designated by the London Views Management Framework was "irrational" and says: "Any reasonable person…could not reasonably come to the conclusion that the development was not 'visually intrusive'."
The development will feature eight buildings ranging from five to 37 storeys with the scheme comprising offices, retail, leisure and close to 900 homes.
But the defendants have pledged to fight the case, which is expected to last today and tomorrow, and say Turner's application should be dismissed.
A statement issued by Braeburn Estates over the summer said it was "disappointed by this individual's application" since the planning application had been through such an extensive consultation and planning process culminating in approval.
"This support followed our demonstration of the many regeneration benefits it would deliver to the local area, London and the UK as a whole," said the statement.
"We will work closely with all parties involved in this legal challenge, and hope it will prove to be both conclusive and positive for the redevelopment of the Shell Centre." A decision by Mr Justice Collins is expected in the New Year.
Other architects working on the development include KPF, Grid, Patel Taylor and Stanton Williams.
Source
This story first appeard on Building Design here.