Nine firms and joint ventures shortlisted for design, programme, project and cost management roles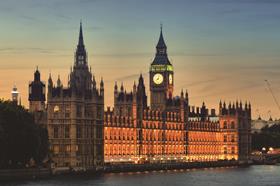 Nine firms and joint ventures have been shortlisted for two client advisory roles on the mammoth £6bn restoration of the Houses of Parliament.
Allies and Morrison, BDP, Foster + Partners and HOK have been shortlisted for the architectural lot, while Aecom and Mace, Capita and Gleeds, CH2M, Arcadis and Turner & Townsend have been shortlisted for programme, project and cost management services.
The client advisory contracts are expected to be awarded by the end of June 2016 and to be worth up to a combined £29m.
A Parliament spokesperson said the fee range for the architecture services contract was £10.4m-21.3m, while the other consultancy services would be between £4m-£8.6m.
The shortlisted firms will now be invited to submit tenders from 16 December, with bids to be submitted by 17 February.
In June, Deloitte Real Estate, Aecom and HOK published a long-awaited report commissioned by both Houses of Parliament into potential strategic options for the renewal of the grade I-listed buildings.
The study laid out three options for the work costing between £4bn and £6bn and taking up to 30 years to complete. The consultancy trio warned major irreversible damage could be done to the palace unless significant restoration work is undertaken soon.
A "decision in principle" is expected to be reached by members of both Houses of Parliament in spring 2016 to allow for the works to begin in 2020/21.
Full shortlist
Lot 1—Architectural and Building Design Services
Allies and Morrison
Building Design Partnership Limited
Foster & Partners Limited
HOK UK Limited
Lot 2—Programme, Project and Cost Management Services
Aecom Limited & Mace Limited (Joint Venture)
Capita Property Infrastructure Limited & Gleeds Cost Management Limited (Joint Venture)
CH2M Hill UK Limited
EC Harris (ARCADIS LLP)
Turner & Townsend