Firm slumps to £112m loss in 2019
SIG has become the latest firm in the sector to turn to a cash raising plan with the embattled materials company announcing it plans to raise £150m in new equity in the coming weeks.
The firm, which today said it had slumped to a £112m pre-tax loss in 2019, revealed New York private equity firm Clayton, Dubilier & Rice had agreed to pump in up to £85m into the business on condition the remaining £65m was raised elsewhere giving it a 25% stake in the business.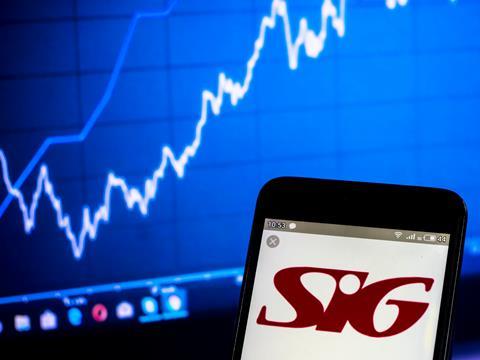 Yesterday Costain completed a £100m cash-raising move which will give a Dubai-based contractor a 15% stake in the business.
SIG, which earlier this month was forced to pull the plug on plans to sell its insulation panels business to Kingspan for £37.5m, said impairment charges and restructuring costs of close to £130m helped send it crashing into the red in 2019 from a £10m profit last time.
And the firm said revenue in March and April this year slumped £139m, a one third fall on the equivalent months last year, because of the covid-19 crisis. But it said trading was now returning to pre-coved levels as more and more construction sites reopened.
It added it was beginning to bring back some of the 2,000 staff it furloughed during the crisis but said capital investment on initiatives such as overhauling IT remained on hold.
New chief executive Steve Francis, who was appointed in February, has made a host of changes to the firm's senior management including bringing in former SIG executive Phil Johns to head up the UK business and a new chief financial officer Ian Ashton, who joins from rival materials firm Low & Bonar in July. Former Wickes chief operating officer Simon King joins as a non-executive director.
The firm is targeting operating margins of 5% in the longer term and growth after what Francis called a "decade of contraction".
But the firm warned turnover this year is expected to be £500m down on 2019 and would not return to those levels until 2022.
The firm made an underlying pre-tax profit of £41.9m. Turnover fell to £2.1bn from £2.4bn in 2018.
SIG also said it would spell out further details on the action it has taken after it called in accountants PwC in January to investigate divisional financial forecasting issues. This, SIG said, meant "underlying forecasts were both poorly classified and poorly reported at group level, with the result that the board was unsighted as to the overall picture".