HBF chief executive claims that market is at a "turning point" as house sales hit two-year high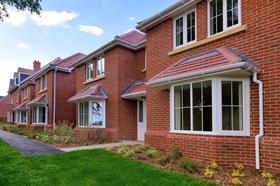 The new build housing market looks to have hit a turning point, according to Home Builders Federation executive chair Stewart Baseley, speaking this week after figures from the RICS showed that house sales have now hit a two-year high.
Baseley, speaking at the HBF's annual policy conference, said recent sales figures, including data on sales through the government-backed NewBuy scheme to encourage first-time buyers, said that "we may look back on this moment as perhaps the turning point in the economic cycle."
Baseley's assessment was backed by housing minister Mark Prisk, speaking at the same event, who said: "I hesitate to connect the words 'green' and 'shoots' together, but while it is early days we are seeing encouraging signs that the measures we have taken are starting to have some effect."
The monthly RICS housing report found that surveyors sold an average of 16.8 homes each in the three months to February, the highest figure since late in 2009. The figures also showed that surveyors confidence in future price rises was more widespread, and that 16% more surveyors saw the number of sales rise in February than saw sales fall.
While it is early days we are seeing encouraging signs that the measures we have taken are starting to have some effect

Mark Prisk, housing minister
It also showed a small increase in new buyer enquiries and new instructions by sellers. The HBF said that sales through the NewBuy mortgage indemnity scheme have reached 130 a week, double the average last year. The body said that 3,700 reservations have been made through the scheme, which offers first-time buyers access to 95% mortgages.
The HBF said the improvement was down to the continued reduction in interest rates by banks offering mortgages under the scheme. In addition the HBF said that councils granted approvals for 45,041 homes in England in the fourth quarter of 2012, up 62% year on year and 33% up on the previous quarter. This was the highest figure since the first quarter of 2008.
The positive signs come despite the fact that the rate of housebuilding in England is still close to post-war lows, with just 98,280 homes started last year.
Mark Aedy, managing director of housing investment firm Moelis & Company, said the strength of the potential recovery in the UK homebuilding sector was increasing attracting investors from the US.
He said: "The mood has changed in the last 18 months. Investors buy the story that the current low level of output of the industry is totally unsustainable given the demand for housing. It's being viewed as a growth industry."