Details of green initiative add to evidence of improving London market emerging at Mipim
Skanska's new retrofitting partnership with Arup and GE is targetting £26m in revenue this year as the venture gears up to overhaul a major central London property and it eventually aims to reach £200m, Building understands.
The target adds to evidence of an improving London market at this year's Mipim event, where mayor Boris Johnson trumpeted the development of the Royal Docks as being "as exciting as the Olympic park".
On his third visit to Mipim as mayor, Johnson told delegates that "it looks like confidence is brimming".
Last week Skanska announced it had formed two separate partnerships to work with Arup and GE to provide a "one stop shop" service to landlords to upgrade their property and make it more energy efficient.
Building understands that turnover from the venture should hit £26m this year and could rise to £200m in the future.
Craig Sparrow, head of UK Green Business at Skanska, said its overhaul of a property in the capital would show the market what it could do with a high profile refurbishment: "We are retrofitting a major London property in April, when the facade will come down."
The partnership with Arup and GE - which is not exclusive - is widely seen as a rival to Brookfield Green, a similar venture between WSP, Woods Bagot and Brookfield, which has not yet released any predicted turnover figures.
A survey of 51 senior executives at commercial property developers, commisioned by Skanska, showed that 53% agreed that there is an increased interest from businesses in green retrofit and refurbishment. In addition, a third (33%) thought it would be the next big thing for the commercial property sector.
In his keynote speech to delegates, Johnson said that the redevelopment of the London borough of Newham in east London was the next focus, after the Olympic park.
"We're open to JVs of all kinds. Forty five specific development proposals have been put forward so far," he said. "It's as exciting as what we're doing in OPLC [the Olympic park]".
The mayor also invited developers to bid to build an 800-home, seven-acre community next to the athletes' village on the Olympics site after next year's Games, and said that the Olympic media centre would go out to market next month.
In another positive sign for the London market, developer Capco said that its £6bn-8bn redevelopment of Earl's Court would go ahead even if protests from council estate residents prevented them using housing authority land.
Sir Terry Farrell's masterplan for the area is being built on land owned by Capco, Transport for London and the Hammersmith and Fulham council.
Speaking at Mipim, Gary Yardley, investment director at Capco, said: "We'd go forward with Seagrave Road [a separate site to the south], TfL and our land anyway".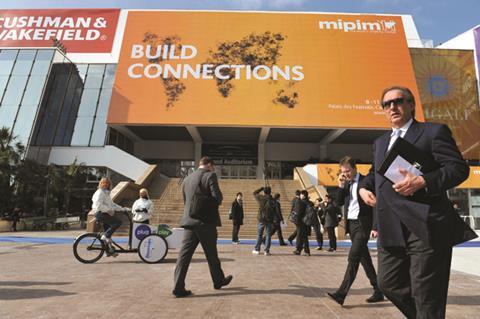 MIPIM DELEGATES: VIEWS ON THE MARKET
Jackie Sadek, chief executive, UK Regeneration
Obviously, with the Olympics and Newham and everything else, London is the centre of development in the UK right now, and maybe even Europe. But we need investment in the rest of the UK, or the capital will not thrive. I'm doubtful that there won't be any hiccups with these big London regeneration developments either.
Matthew Cutts, head of lenders and investors, EC Harris
We've seen a lot of interest in Germany, Poland and France. In Germany,
the economy is strong and banks are more willing to lend to invest in
new development. Poland is now almost a Western European market as it has matured.
Martin Kelly, director (land planning), Capita Symonds
London is the place to be at the moment. In the last six months or so we have seen a real pick up in development and construction in the capital. Residential is usually the enabling development but there's a lot of commercial office space as well. Mixed-use is the busiest area.
Ian Marsden, technical director, URS Scott Wilson
We are very busy in London and the South-east, elsewhere we're very quiet. On the localism agenda, there seems to be a lack of clarity. I'm worried that we're going to end up with lots of different responses to development.