Skanska/Bam JV, also including Amey and Siemens, to build controversial rail link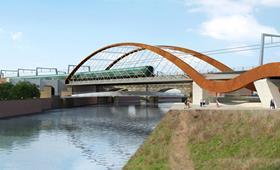 A Skanska Bam Nuttall joint venture has won a £85m deal to build the controversial Ordsall Chord viaduct in Manchester.
Network Rail said it has formed an "official construction partnership" to build the scheme with the Skanska/Bam JV which also includes Amey and Siemens.
Skanska and Bam have been working on the project since 2013 under an early contractor involvement (ECI) contract.
The 340m rail link, designed by BDP, will connect Manchester's Piccadilly and Victoria stations for the first time with a new bridge over the River Irwell, just west of the city centre.
The scheme was disrupted by a legal challenge launched by high-profile engineer Mark Whitby in July, which he said at the time would damage "the Industrial Revolution's Stonehenge".
However, the challenge was thrown out by the Royal Court of Justice in October and the scheme was finally given the go-ahead.
Whitby, a former ICE president, told Building in October he was disappointed by the decision, describing it as a "Stuart Lancaster moment" in reference to the exit of England, then coached by Lancaster, from the Rugby World Cup and compared challenging Network Rail to "like playing Australia".
During the delivery phase of the project, the contractors said they will draw on the collaborative experience of each other, using BIM to bring whole-life costing and carbon foot-printing to the project.
Alan Cox, sector director at BAM Nuttall, said the Ordsall Chord will provide an "important new link with an iconic structure that will enrich the railway heritage and passenger experience" of the region.
James Richardson, managing director at Skanska, added that the project is a "significant part of Network Rail's plan to stimulate economic growth in the north of England".