Firm says civils and building work both set to hit slowdown in coming year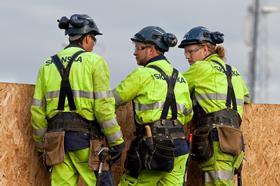 Skanska's Europe division has continued its bounce back in the first half of the year but has downgraded its outlook for the UK's civils market.
In the first half of last year, Skanska's European construction business, which does not include its operations in the Nordic countries, made a SEK 715m (£61m) loss from a SEK 16bn (£1.4bn) turnover.
But in the six months to 30 June 2019, the division scraped into an operating profit from a SEK 15bn (£1.3bn) revenue on the back of a SEK 154m (£13m) operating profit – meaning it achieved a 1% operating margin.
Yet the Swedish firm said it had downgraded its outlook for the UK's civil market – the only market of 19 it reports on which it expects to get worse.
It now says both the UK markets it operates in, non-resi building and civils, have a weak 12 months coming up.
"In the UK the uncertainty related to Brexit is limiting investments in the non-residential building market and is also impacting the civil market negatively," wrote group chief executive Anders Danielsson in Skanska's interim report.
Across the company, Skanska made an operating profit of SEK 3.2bn (£270m) from a revenue of SEK 80.9bn (£6.8bn)
It comes as documents filed at Companies House earlier this month show its UK business made a £44m pre-tax profit from a £1.9bn turnover in the year to 31 December 2018.