More tall buildings were built globally last year than ever before, with China completing the most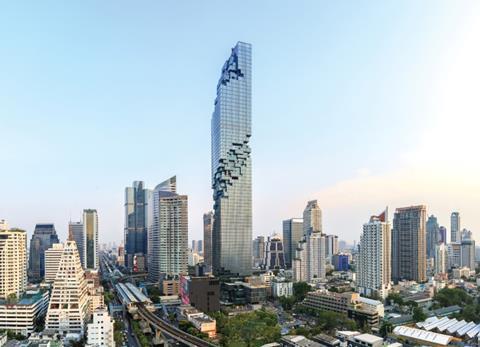 More skyscrapers were built around the world than ever before last year, according to new research.
In total, 128 buildings standing at 200m or higher were completed globally in 2016, according to analysis by the Council on Tall Building and Urban Habitat (CTBUH). This beat the previous record of 114 buildings set the year before.
Asia retained its status as the world's skyscraper epicentre, completing 107 buildings taller than 200m, representing 84% of the 128-building total.
For the ninth year in a row, China had the most, with a record 84, overtaking its previous annual record of 68 in 2015.
This included the tallest tower to complete last year, the KPF-designed Guangzhou CTF Finance Centre, which is the second-tallest building in China and the fifth-tallest building in the world at 530m.
Just two qualifying towers were completed in Europe and neither were built in the UK - 374m-tall Vostok Tower in Moscow and 220m-tall Warsaw Spire in Poland.
Vostok Tower, formerly known as Federation Tower, was finally completed 11 years after construction began in 2005, after hitting three years of delays between 2008 and 2011 due to the global financial crisis.
The United States completed the second-most 200m-plus buildings with seven, a big rise from the two buildings completed in 2015.
Back in Asia, other skyscrapers to complete included 314m-tall Ole Scheeren-designed MahaNakhon tower (pictured) in Bangkok, Thailand.
Globally a total of 10 'supertalls' – buildings of 300m or higher – were completed last year, the third largest on record but less than the CTBUH anticipated, due to construction delays on some projects.
Overall, 14 of the top 20 tallest buildings completed in 2016 were built in China.
Shenzhen had the highest number of 200m-plus completions of any city with 11, which is more than any country other than China managed to complete. The total height of buildings completed in Shenzhen is 2,608 meters.
An infographic showing the 20 tallest buildings of 2016 is attached to this article below