Paul Uppal said poor payment practices have become par for the course for many SMEs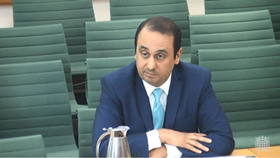 Small businesses have become so used to being paid late that many firms have begun to accept it as normal practice, according to the small business commissioner.
Appearing before MPs onthe business committee yesterday, Paul Uppal (pictured) said SMEs were reluctant to complain about bad payers.
He said: "Small businesses take the view, 'I would rather have a very, very bad commercial relationship than none at all'. And that's a problem.
"Late payment is a symptom of a much broader disease, and the disease is about the commercial relationship between large and small businesses.
"We have so many businesses who approach us but are terrified to put their heads above the parapet – this is a huge issue."
He said small business were quite cynical around support in regard to late payment, with many firms becoming quite "accepting of it".
While 17 cases have been investigated by the commissioner, Uppal said the group had only aided in speeding up payment in two cases, with payments being processed via normal channels in the other 15 cases.
He said the commission had received 48 complaints pertaining to 19 firms since January.
Uppal made special mention of Carillion, highlighting the fact the failed contractor was paid by government in 30 days but did not pay suppliers for up to 120 days.
In answer to a question on why big businesses paid in such a way Uppal said: "Because they can. Maybe it's part of the broader disease of the commercial relationship."
Asked whether he supported Tory MP Peter Aldous's bill on retentions, which has had its second reading pushed back to mid-June, Uppal said his experience working in the construction industry made him supportive of the bill.
The Small Business Commission has been operational since December last year, employed eight people including Uppal and has an annual budget of £1.3m.