Bill proposed by Tory MP Peter Aldous is due for a second reading on 26 October
More than 200 MPs have pledged support to Tory MP Peter Aldous' bill to reform retention practices in the construction industry.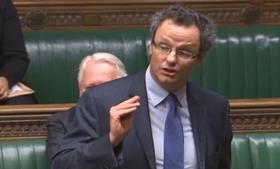 Almost one in three MPs, or 207 members, of the 650 MPs who sit in the House of Commons now support the Construction (Retention Deposit Schemes) Bill 2017-19, known as the Aldous Bill, with cross-party support including 96 Labour and 76 Tory MPs.
Following the collapse of Carillion in January, the bill has drawn endorsement from big political hitters, including shadow chancellor John McDonnell, Ken Clarke and Sir Vince Cable.
Tory MP Maria Caulfied, who is the member for Lewes, was the 200th MP to pledge support to the Bill.
She said: "I have constituents that were impacted by Carillion, even my father and my husband work in the building trade, so I am all too aware of late payment and the issues with cash retentions.
"Reforming cash retentions will protect thousands of small businesses and help industry meet the needs of the public; and I am fully behind it."
James Frith, Labour MP for Bury North who has also backed the bill, said: "Carillion was a watershed moment that wasted millions of pounds of public money, halted building schools and hospitals and cost thousands of jobs, putting SMEs at risk having to bear the brunt of a puffed up failed outsourcing company.
"Government should heed the calls from 200+ MPs and real employers, like those in Bury I am working with to pick up the pieces since Carillion went pop, to ensure damaging practices that led to this collapse aren't repeated."
The backing comes as 80 industry bodies and trade associations, representing over 580,000 businesses and sole traders, also pledged support for the bill.
Aldous (pictured) introduced his bill to put retentions in secure deposit schemes six days before Carillion collapsed, and second reading is due to take place after the party conference season on 26 October.
The second reading of the bill has been pushed back twice, having been due to be read in the House of Commons for a second time on both 15 June and 27 April.