All sectors suffer but housing and regeneration fare worst with cuts of 75%
Despite the cuts to capital spending, the publication of Wednesday's Comprehensive Spending Review has at least started to bring clarity to construction programmes over the next four years.
James Wates, chairman of the UK Contractors' Group, said: "It would be all too easy to lament the fairly draconian cuts. But some of the details in the jigsaw are falling into place and there are real opportunities for construction especially in transport and energy but also in education and health."
Below, Building looks at what the CSR means for construction sector by sector.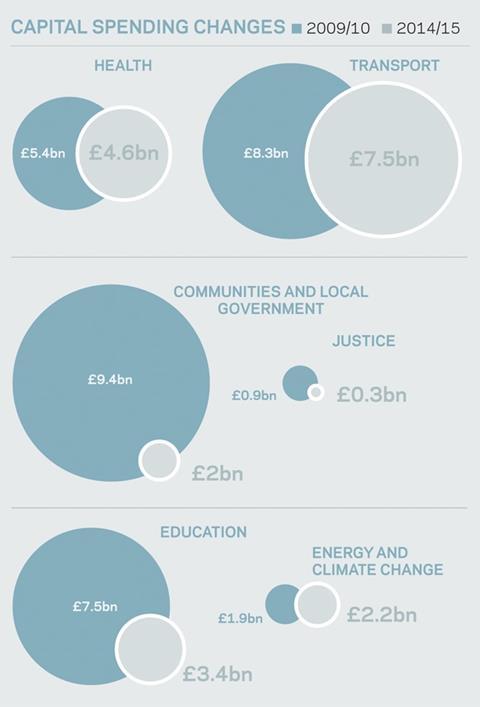 HOUSING AND REGENERATION
Funding for housing and regeneration is be to cut by 75% by 2014/15 after the biggest shake-up in decades. Social housing funding of £8.4bn between 2008 and 2011 has been cut to just £2bn over the next four years, which will be enough to pay for the existing commitments to housing associations.
Ultimately this will be replaced by a new form of tenure where homes are let at 80% of the market rate. The government says the two together will create 150,000 homes over the four years, which implies a rate of build broadly similar to construction today. Housing minister Grant Shapps denied it was the end of social housing as we know it. He said: "This will give housing associations flexibility to build more and borrow to fund new homes. But this could also [be] … attractive for institutional investors to put money into."
Meanwhile all of the communities department's regeneration and growth programmes, such as the Thames Gateway, housing market renewal in the North, and housing growth will have to bid for cash from the £1.5bn regional growth fund, which is also picking up former Regional Development Agency commitments. The government also confirmed that between £200-250m a year will be set aside to pay for the proposed New Homes Bonus designed to reward councils that allow development in their areas.
Design quango Cabe is to be scrapped after the culture department said it would not continue funding it, and the communities department refused to take full responsibility. Shapps said: "We'll look at whether some of the functions can be incorporated into our work at communities department."
Energy and climate change
Green issues have fared reasonably well with the confirmation of up to £1bn to pilot carbon capture and storage and the promise of a renewable heat incentive. The £1bn set aside for a Green Investment Bank was disappointing and whether it will be enough to attract private investors remains to be seen.
Up to £1bn will be invested in a commercial scale carbon capture and storage demonstration plant. More than £200m will be invested in low carbon technologies including offshore wind technology and manufacturing plants.
Less encouraging was the news that £1bn to fund low carbon energy schemes such as green retrofits won't materialise until 2013-14. The Warm Front programme which helps people on benefits pay for energy and insulation improvements will be phased out. Feed-in-tariffs will be reduced at the next formal review undermining the investments made by manufacturers.
The renewable heat incentive which rewards those generating heat from renewable sources will be introduced in 2011-12. Details on the level of payments have yet to be outlined.
Transport
The transport capital budget, seen as a driver of economic growth, will drop by the relatively small amount of 11% in real terms over the next four years; the nominal spend is £7.7bn in 2010-11 and £7.5bn in 2014-15.
Crossrail will get funding for all stations and spurs; Birmingham New Street station to be upgraded, but budgets for smaller transport projects funded by local authorities will be cut by 7.1% a year; Transport for London is to suffer a 28% cut.
One unknown that remains is the Thameslink programme, which was not mentioned in the Comprehensive Spending Review; Reading's station upgrade was also not mentioned
Health
After some bumper spending years, things have got leaner. Osborne pointed out that the NHS capital budget will remain higher in real terms in each year than the average yearly spend over the last three spending review periods.
Hospital schemes such as St Helier, Royal Oldham and West Cumberland will be prioritised, but Ian Greggor, project director of health at Cyril Sweett said: "There is still no clarity on who will drive through estate investment once the Primary Care Trusts disappear. And reductions in social care could well become a burden on the health sector."
Education
The picture is bleaker than expected for schools capital spend, which will hit a low of £3.3bn per year in 2012-13. About £15.8bn will be spent on capital schools projects between now and 2014-15. This will include work on 600 former Building Schools for the Future and academies projects - although these were given the go-ahead by the government since coming to office. They do not include the 700 or so schemes that remain on hold. But there will be some capital funding available for work on some of these schools, plus work on primaries and essential maintenance.
Overall capital spending on schools will drop by 60% over the spending review period. This is much worse than the industry expected.
Ministries of defence and justice
The Ministry of Defence capital spending cuts of 7.5% were not unexpected. About £350m will be cut each year from Defence Estates budget through estate rationalisation, and the £14bn St Athan training academy has been scrapped.
The Ministry of Justice said it had to make "tough decisions" to meet the 50% cut in capital spending, and plans to build a new 1,500-place prison scrapped its London estate was reduced from 18 to four buildings. On the other hand, there was £1.3bn capital funding for maintaining the estate and for new capacity.