Spike in projects going in for planning as industry warns 20,000 jobs put at risk by cuts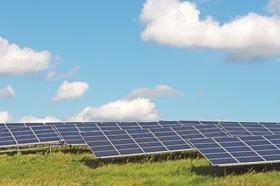 Planning applications for major solar farms have spiked as the renewable energy industry scrambles to respond to the cancelling of various renewable subsidy schemes, Building can reveal.
Exclusive research produced for Building by construction data company Barbour ABI shows 51 major solar projects went in for planning in the 10 days following the July announcement of subsidy cuts, in a bid by developers to beat the planned subsidy cut-off dates. The revelation comes as the government was put under increasing pressure to rethink the planned cuts to subsidies, which critics said could result in tens of thousands of job cuts.
The planning application spike saw a total of 83 applications in July, worth a total of £431m - the highest monthly total on record.
This compares to an average of just 31 applications each month in the first six months of the year. On 22 July the Department for Energy and Climate Change (DECC) announced it was planning to end the Renewables Obligation (RO) subsidy scheme for small scale solar farms producing 5MW or below of power from the end of March 2016.
The Barbour research reveals solar farm applications continued to pile in in August - 69 projects were submitted over the first three weeks of the month, indicating August could set another monthly record once full data is in. A third of the total number of applications made to date in 2015 were submitted after 22 July. Barbour logs projects worth £100,000 or more.
Industry experts told Building the data indicated developers were rushing to progress and complete solar farm schemes ahead of the proposed March end date for the RO solar subsidy. A proposed end date of January for a separate renewables subsidy - the feed-in tariff (FIT), which has also hugely boosted solar schemes in recent years - is also driving applications.
John Forster, chairman of the Solar Trade Association (STA) Scotland, said the Barbour figures indicated developers were responding to "two rush points" created by the proposed scrapping of both subsidies, resulting in a "massive drive to get projects through the limited time window left."
According to STA estimates, 4GW of solar schemes are currently proposed, representing a huge increase in the solar pipeline, given that only 8GW of solar projects have been installed since 2010.
In a letter to MPs, shared exclusively with Building, the Electrical Contractors Association (ECA) separately called on two parliamentary committees to launch an "immediate inquiry" into DECC's proposal to reduce or end FITs.
Writing to committee members on the Energy and Climate Change Committee and the Environmental Audit Committee, the ECA's director of business services Paul Reeve warned the proposal was "set to damage thousands of SMEs" and called for a "far slower regression" in FIT rates.
Businesses warned last week that more than 20,000 jobs are at risk due to the subsidy cuts in the 34,000-strong solar industry. Forty-seven organisations, including the STA, wrote an open letter to DECC last week setting out the scale of potential job losses, while former US vice president Al Gore and the CBI both hit out at the government's wider green record.