Skateboarders will continue to use undercroft and in return all parties agree to drop legal action to wider £120m revamp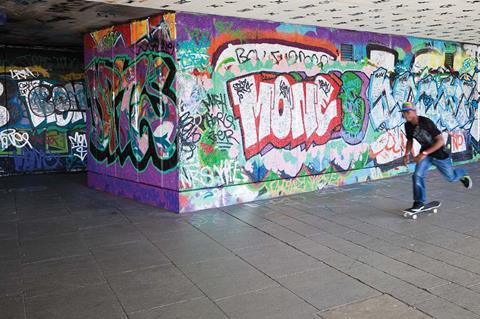 The Southbank Centre has struck a deal with the skateboarders who use the complex's long-disputed undercroft area that will see the site continue to be used for skateboarding in the future.
The two sides issued a joint statement today saying they have signed a binding agreement with Lambeth council to keep the space open for skating and graffiti in perpetuity.
In return, the Long Live Southbank campaign group gave its formal backing to the rest of Feilden Clegg Bradley's £120m Festival Wing proposal.
Both sides also agreed to drop their respective legal actions.
These include the Southbank Centre's challenge to the registration of the undercroft as an asset of community value; Long Live Southbank's application for village green status for the undercroft; and a judicial review of Lambeth council's decision to reject the village green application.
The news follows three months of talks. Long Live Southbank led a vigorous campaign against the arts centre's plans to turn the undercroft into retail units which would have funded the complex's refurbishment.
After mayor of London Boris Johnson backed the skateboarders earlier this year, the Southbank Centre suspended its plans. Johnson will have the final say on such a significant application.
The arts centre now faces the battle of raising funds without the help of rents from the shops and restaurants it had hoped would fill the undercroft.
The news spells the end of a proposal by SNE and Rick Mather Architects for a new purpose-built skateboarding area under Hungerford Bridge.
Lib Peck, leader of Lambeth council, said: "I'm pleased that Lambeth council was able to work with both sides and find an imaginative solution to resolve this. Shared public space in London is precious and Southbank Centre is a great asset to the country's cultural life. This agreement is a sensible way of protecting both and we can all now look forward."
This story first appeared on Building Design.