Scottish housebuilder says revenue was 17% up on same time last year
Listed Scottish housebuilder Springfield said the business rebounded strongly in the six months to the end of November, following the re-opening of building sites shut in the spring lockdown.
Issuing a trading update for the first half of its financial year, Springfield said revenue for the period was 17% up on that recorded in the same period in 2019/20, when it brought in £80m.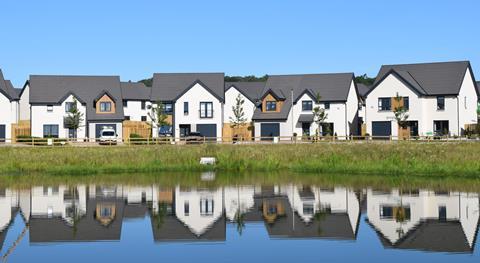 The firm said that the boost to income was largely due to the completion in the period of sales originally scheduled for April and May but which were delayed due to the coronavirus pandemic.
Earlier this year the firm reported a 25% drop in revenue for the full year to the end of May and a 38% drop in profit, which it blamed on the shutdown of the housing market during the first lockdown.
As well as delayed transactions, Springfield said the period had benefitted from "strong sales activity" since June, both as a result of pent-up demand and an increasing desirability for the typically larger private homes that Springfield offers.
The firm said net debt has more than halved since June, to £33.6m at the end of November. The period has also seen the firm win its first planning approval for purpose-built rented housing.
Innes Smith, CEO of Springfield Properties, said the firm had seen an increased desire for spacious homes with private gardens and easy access to plenty of green space – the type of housing that Springfield offers.
He said: "As a result, we were able to deliver significant revenue growth and substantially reduce our net debt position. With a strong order book for our private and affordable housing, with substantial visibility, we look forward to delivering significant growth for the full year in line with market expectations."