Fit-out specialist looks at possible acquisition plan after strong 2015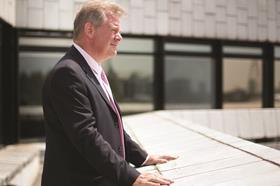 Styles & Wood is eyeing expansion through potential acquisitions after posting strong results for 2015, according to chief executive Tony Lenehan.
The firm reported a four-fold jump in pre-tax profit to £2.4m for the 2015 calendar year, up from £0.6m the previous year. Revenue was also up 18.6% to £115m, up from £97m, while the company's headcount increased 20% to 350.
Lenehan told Building the company was seeing "sustainable growth" in all three core areas of the business – professional services, programme management and project development and delivery - and the group has reported it is considering developing an acquisition plan to enhance its offering.
The potential acquisition plan would focus on expansion of Styles & Wood's portfolio services offering, property management facilities service, and technical support.
Styles & Wood refinanced in June 2015 and this saw it gain two new major shareholders in Henderson Volantis, which is acting in an observer capacity, and the Business Growth Fund, which the company reported was already providing opportunities on both the client and supplier side.
Philip Lanigan, group finance director at Styles & Wood, said the two new shareholders were very supportive and would look to support the firm on a growth agenda.
Styles & Wood reported that it was also seeing growth across its sectors including commercial office fit-out and refurbishment, where a shortage of new office space and a need for operational efficiency continues to drive refurbishment and fit-out opportunities in the UK.
Meanwhile grocery retailers, universities and Banks are continuing to improve, rationalise and consolidate their estates providing a good pipeline of work for Styles & Wood, which has seen them recently appointed by a major grocery retailer to remodel the majority of the entrance areas for its stores.
Lenehan added that education was a particularly "strong growth area" for the firm, which has completed a fit out project for Lancaster University and an enabling project for another Russell Group University. The firm also has another 3-4 more opportunities currently in tender, Lenehan said.
Geographically, Lenehan said: "Manchester and London are pretty core to the company's future ambitions." He added that a fifth of the group's revenue for 2016 is coming from the capital, while 30-35% would derive from Manchester, which is also where the group has won a £17.7m refurbishment project of Westminster House in Manchester for Aviva Investors.