Firm was taken private at end of 2017
Manchester fit-out contractor Styles & Wood is set to go into administration just over two years after being taken private in a £42.5m deal.
The firm has been going for 35 years and listed on the Stock Exchange in November 2006, delisting in March 2018 after being snapped up just before Christmas 2017 by Central Square Holdings, an investment vehicle of Steve Parkin once linked to a takeover of high-flying Championship club Leeds United.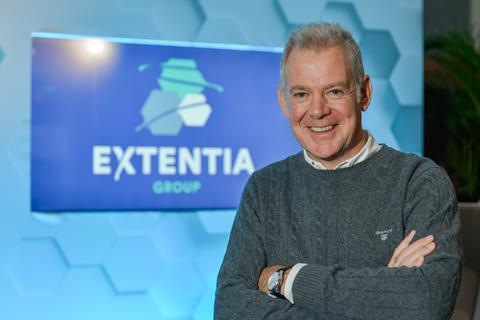 At the time, Styles & Wood chairman Paul Mitchell hailed the move and added: "We are confident that Central Square, with its commitment to the creation of a best in class offer within the property services market, is the right partner to take Styles & Wood to the next chapter of its growth story."
The firm rebranded in November 2018 becoming part of an enlarged group called Extentia, which includes 11 businesses including FM specialist, Concourse, furniture supplier Ralph Capper and engineering consultant GDM.
But last autumn Styles & Wood chief executive Tony Lenehan (pictured), who joined from Bovis Lend Lease in 2011, left along with chief finance officer Phil Lanigan.
Extentia Group chief executive Craig Eastwood, who replaced Lenehan, said: "Extentia's programme management business Styles & Wood has experienced significant cashflow issues following a handful of large developer-led projects.
"By nature, this type of work is complex with high revenues and low margins; a situation inherited by Extentia Group's new leadership team who succeeded predecessors at the end of November 2019."
He added: "Unfortunately these cashflow issues have become too significant for Styles & Wood to sustain and so the difficult but correct and responsible decision has been made to file an intention to appoint administrators and discontinue all programme management activities.
"Our focus now is to work with our stakeholders and advisers to explore options for the Styles & Wood businesses, making it a priority to protect the interests of our colleagues and those employed within connected Styles & Wood divisions."
In its last set of results as a listed firm, the firm posted a £3.5m pre-tax profit on revenue of £105m in the year to December 2016. In its last set of accounts for the 18 months to June 2018, the firm sank to a pre-tax loss of £5.5m on revenue of £151.5m. The accounts, which were signed off by Lanigan last April, said the firm had 344 staff.
Eastwood said its furniture, fixture and equipment and professional services businesses were unaffected by Styles & Wood's collapse.