Exclusive: Contractors face at least £50m in costs due to ongoing delays to a high-profile £134m nuclear submarine jetty project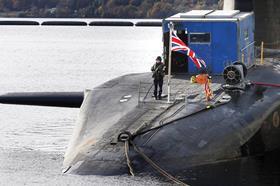 Morgan Sindall and Amec could be forced to bear a combined total of at least £50m in costs due to ongoing delays to a high-profile £134m nuclear submarine jetty project in Scotland, which is four years overdue and still unfinished.
As Building reported last week, the Ministry of Defence (MoD) has admitted that Morgan Sindall's joint venture with Amec has yet to finish the £134m Faslane SSN Berthing Project - also known as the Valiant Jetty - which started in May 2004 and was due for completion in October 2008.
In October 2011, junior defence minister Peter Luff said the project was set to complete in September this year. However, the job remains unfinished amid ongoing difficulties.
Amec was originally sole contractor for the jetty. Morgan Sindall acquired Amec's construction business for £26m in 2007, which had been part of the team working on the job. This left the project a 50:50 joint venture between Morgan Sindall and the remaining independent Amec business.
In a parliamentary answer, Luff said the project had run £92m over its initial budget of £134m. In part of the answer that was never publicly reported, he added that the contractor was liable for the first £50m of that overrun, with the liability for the remaining cost to be determined between the contractor and the Ministry of Defence, insofar as the contractor "was able to show that the additional costs in question have been reasonably and properly incurred".
This week the MoD, Morgan Sindall and Amec refused to say if the cost overruns exceed £92m, or if they had determined the share of the liability beyond the first £50m. All parties declined to say why the project had run four years over its schedule or when it would be complete.
Morgan Sindall, which posted profit of £43.5m in 2011, and Amec also declined to specifically identify where they had made provision for the cost overruns within their accounts.
However, it is likely Morgan Sindall's provisions for the problem job are contained within a £60.5m "fair value adjustment" of the value of the 2007 Amec acquisition, made in its 2008 accounts.
A Morgan Sindall spokesperson said: "The audited accounts of Morgan Sindall Group Plc, properly reflect the assets and liabilities of the business and have been prepared in accordance with applicable accounting standards. Any provisions required are properly disclosed in the accounts."
An Amec spokesperson said: "We continue to support our customer in bringing this complex project to a satisfactory close and are anticipating completing it later this year."
An MoD spokesperson said it was working with the contractor to complete the SSN Berthing Facility "as quickly as possible".
"The delay in the delivery of the project does not affect the operational capability which is delivered by the existing facilities," he said.