Move comes after bids by contractors Vinci and Graham both come in over budget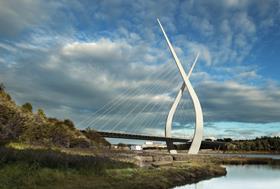 Plans for a £118m bridge over the river Wear are set to be scrapped after neither of the two competing contractors, Vinci and Graham, were able to build the design within the scheme's budget.
Council officers have recommended to cabinet that the current design be binned because it is "unaffordable" and that "significant additional funding" was required.
The report said: "There were no tenders returned that were priced within the current funding availability and approved budget for the scheme."
Officers said the council should start a competition for a "simplified bridge design" next month before awarding a contract in October 2014.
An OJEU notice for the job is scheduled to be published this October.
The report said: "The bridge will adopt a more conventional form, however, with the result being a simplified design, procurement and construction process."
Paul Watson, leader of Sunderland council, said the outcome of the procurement was "disappointing".
He added: "The simplified design for the bridge will continue to embrace modern and tasteful design qualities, whilst maximising tested engineering technology and construction techniques."
The report said the infrastructure project was "essential" to the economic growth of Sunderland city centre and Sunderland port.
It said: "The New Wear Crossing will provide the critical capacity required to enable Sunderland city centre to grow and for activities at the Port of Sunderland to expand.
"It will also provide a vital means of access to strategic development sites along the river corridor, providing the infrastructure for their ongoing economic regeneration."
The council's cabinet will consider the report next Wednesday.