Report calls on Homes England to invest if associations are to meet ambitious build targets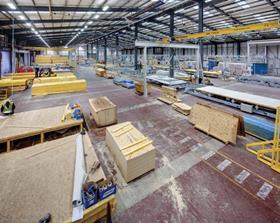 Government must help housing associations ramp up their off-site manufacturing capabilities if they are to build the 80,000 to 100,000 homes a year needed to meet annual targets of 300,000 units, according to a new report.
The document from the Future Shape of the Sector Commission – founded last year by housing associations Clarion Housing Group, L&Q and Network Homes and chaired by former Cabinet Secretary Lord Turnbull – argued that for associations to meet such a target would require government support and a fundamental rethink of how new technology, such as off-site production, would be used.
"Continued access to affordable land and government subsidy will be needed to increase delivery of homes at sub-market rents and prices," the report added.
Government, in the form of Homes England, needed to invest "in the right offsite construction vehicle to rally housing associations behind a unified solution and generate the order volumes for this industry to really take off", it went on.
Helen Evans, chief executive of Wembley-based Network Homes, said off-site construction had huge untapped potential.
"As well as its potential speed and environmental benefits, offsite construction can overcome construction skills shortages on site, particularly if more migrant workers choose to return to their homelands following Brexit.
"Better collaboration and joint working is key, and the Commission's report clearly shows that concerted action is needed from all the main players in the market, including Homes England."
Last week, figures from the Office of National Statistics showed that one third of workers on London sites were from overseas with 28% coming from the EU.