Swedish engineering firm targets purchases in UK, Germany and Belgium and work on HS2 and HS3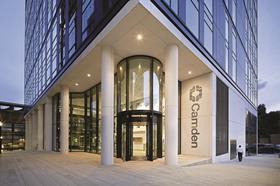 Engineering giant Sweco has set its sights on further expansion in the UK and Europe after acquiring Dutch business Grontmij last autumn, along with its 700-strong UK business.
Speaking to Building this week as the Grontmij businesses rebranded as Sweco, the group's overall chief executive Tomas Carlsson said more acquisitions will follow in 2017.
He said: "We made a long-term acquisition with Grontmij. We will spend most of 2016 on integration and developing a common culture within the Sweco group.
"As soon as we are ready, we will look at making acquisitions. [We will go] from Nordic countries to new countries where we have businesses, like the UK, Germany and Belgium. I think 2017 might be an interesting year."
Sweco is a £1.4bn turnover engineering group listed on Nasdaq in Sweden. With its acquisition of Grontmij, Sweco bought itself into in the UK market. According to Building's Top 150 Consultants league table for 2015 Grontmij had 711 staff.
Sweco's new UK managing director Max Joy - who joined the firm direct from the British Army last month - said the takeover deal would allow the firm to target more high profile projects in the UK, including work on HS2 and HS3.
He said: "With the Sweco brand behind us it is a real opportunity for the UK business.
"As an example, with HS2 and HS3, we don't have that expertise in rail but we know our partners in Sweco have, so we can use that to exploit new opportunities."
Joy said the UK business will focus initially on building services, water and transport in the short term, with a particular focus on expanding its building services offer outside of London.
However, Sweco has ruled out setting targets for growth in any of the group's businesses.
Carlsson said: "We operate under a rule called 'earn your right to grow'. The businesses in each country are responsible for their own development, within the Sweco guidelines."
He added: "We don't have stated growth targets, as you get into pressure from external stakeholders. We don't want to get into stupid business just to meet growth targets."