M&E specialist sounds cautious but positive note
Shares in T Clarke were up 11% this morning after the building services group issued a cautiously positive response to the coronavirus outbreak alongside improved annual results for 2019.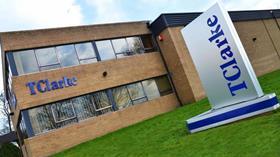 Announcing a pre-tax profit of £9m, up 15%, the firm said the uplift would doubtless be overshadowed by the global pandemic.
Chairman Ian McCusker said: "We as a business continue to follow the UK government's advice and direction and until the situation stabilises it is not possible to forecast the short-term impact on our industry."
But McCusker said the group was in a "robust financial position" and he was optimistic about its long-term future.
Last year T Clarke achieved an operating margin of 3% and it planned to pay a total dividend of 4.4p per share, up 10% on 2018.
Revenues in London rose by 2% to £201m, with operating profit rising by £1m to £8.2m, while revenue in the north rose 15% to £67m, with a doubling of operating profit £3.6m.
Total turnover for the year to 31 December 2019 rose 2% to £335m.
In early trading the group's shares were up 11% at 83p.