Skills Summit outlines panels to develop curriculum for qualifications and funding opportunities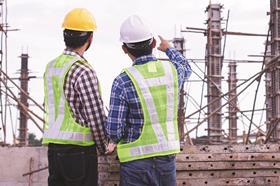 The government has unveiled details for the construction T level curriculum, labelling it the "greatest shake-up of further education in 70 years."
T level panels responsible for developing the curricxulum for the new qualifications, which are made up of employers, professional bodies and providers, were unveiled at a Skills Summit taking place at Whitehall today.
Members for the panels for Onsite; Design Surveying and Planning; and Building Services Engineering were revealed at a Skills Summit taking place at Whitehall today.
T level qualifications, which the government said are an alternative to A levels, are for 16-19 year olds and are focused on practical, technical skills that will include a mandatory three month placement. They will come into force from 2020.
The panel for Onsite Construction will be chaired by Julian Weightman, managing director of Bordercraft Group and contains a total of 13 members.
These include Lovell Partnerships people development manager Bruce Broughton, Home Builders Federation technical director Craig Ferrans, CITB head of apprenticeships Gillian Cane, Miller Homes regional technical coordinator Guy Poyser, Countryside Properties director Paul Sweeney and Build UK skills manager Sarah Garry.
Details of the panels for Design, Surveying and Planning, as well as Building Services Engineering, were also unveiled.
The first of these will be chaired by Dayle Bayliss, who is chartered building surveyor and partner at Dayle Bayliss Associates.
There are a further 13 members here, including Morgan Sindall senior commercial manager Lucy Wiltshire, Skanska UK chief engineering surveyor Mark Lawton, Aecom associate quantity surveyor Rebecca Lindridge , RICS associate director of build environment for professional groups Steven Thompson and Institute of Civil Engineers head of education policy Andrew Stanley.
The third panel will focus on building services engineering. Construction will become one of the first industries to benefit from T level qualifications.
Speaking at the summit, education secretary Justine Greening said: "In the greatest shake-up of further education in 70 years, we are introducing new T Levels for 16 to 19 year olds, an alternative to A Levels focused on practical, technical skills which will include a mandatory three month work placement.
"I'm clear that, ultimately, we tackle the skills deficit when we tackle the opportunity deficit. This is how we build a Britain that is fit for the future and a Britain that works for everyone.
"So we need to make a new offer to our young people – a universal offer on opportunity, so that everyone can reach their potential, regardless of their background or where they live."
Greening also launched new Institutes of Technology, (IoTs), with applicants able to bid for £170m in funding. These will be collaborations by employers, HE and FE colleges, specialising in science, technology, engineering and maths, providing students with qualifications required by local employers.
The summit follows announcements from last week's Budget that set out investment in skills, including an extra £20m for colleges to build the workforce to deliver the new T-level qualifications. Construction will be one of the first industries to benefit from it.
Within the construction industry's sector deal, business secretary Greg Clark said the government will invest £170m in the Transforming Construction programme, with the industry committed to match this with a £250m investment, to boost skills and productivity.