Turner & Townsend have been appointed to the redevelopment of Dallas Fort Worth International Airport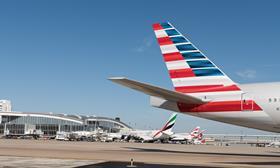 Turner & Townsend has been awarded a £6.8m (US$10.5m) contract to support the capital programme at Dallas Fort Worth (DFW) International Airport.
The three-year contract will see the consultant provide estimating, cost management and project scheduling services.
DFW's capital programme includes terminal refurbishment and expansion, new parking and the overall improvement of infrastructure to enhance the experience for the airport's 63 million passengers per year.
Tina Millan, vice president, head of aviation USA for Turner & Townsend said: "Dallas Fort Worth International Airport is the world's fourth busiest airport, and with 1,850 flights per day everything has to run like clockwork.
Our experience in leading complex programmes in live airports will help to deliver the ongoing capital programme while minimising impact on day-to-day operations and allow to plan for future growth.
"We have built a strong reputation working on some of the world's largest aviation projects, and I'm delighted that we are now building momentum in the North American market.
We look forward to applying our global expertise in Dallas, which is one of the most important air hubs in the world."
T&T has worked on over 140 airport programme projects including Houston's George Bush Intercontinental Airport, Heathrow Airport, Hong Kong International Airport, and Abu Dhabi International Airport.