Consultant says surprise move will help attract skilled staff as number with share of ownership will double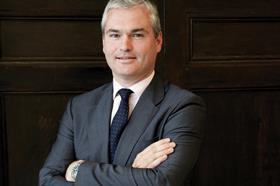 Turner & Townsend has dropped plans to float on the London Stock Exchange in favour of a surprise move to convert back to a limited liability partnership and share ownership among more staff.
Vincent Clancy, Turner & Townsend's (T&T) chief executive (pictured), told Building the consultant was ditching its long-standing plan to float - held since aborting an initial public offering in 2008 due to turmoil in the financial markets - as it "didn't require the [additional] capital" to achieve its goals.
Clancy said converting the consultant back to a partnership, as it was last in 2007, was in part a response to the buoyant market and the challenges of attracting skilled staff: "Being a partnership will help incentivise the right talent. It provides a clear path to becoming an owner in the business."
The firm will convert to an LLP by November, Clancy said, and ownership will be shared among double the current number of staff.
The announcement came as T&T posted a sixth successive year of growth in strong financial results for the year to 30 April 2015.
Reacting to T&T's decision not to float, Tony Williams, analyst at Building Value, said the move was "crazy" as, in his view, "T&T has a fantastic name and would be a super IPO".
He said converting to an LLP could be a "tenable" route to a sale of T&T, as it would be unconstricted by the rules of the London Stock Exchange and the board would have the freedom to distribute any proceeds as it wished.
But when asked by Building whether converting to an LLP was a precursor to a potential sale of the business, Clancy denied this was part of the firm's plan. "Absolutely not. It's all driven by what we believe is the right model […] If anything, it's about reinforcing our independence."
Market experts said converting to an LLP also had the advantage of a lower rate of national insurance contributions for equity partners, potentially boosting the firm's profit.
In its full-year results, T&T posted a 9.9% increase in pre-tax profit to £36.7m, up from £33m the previous year, while revenue increased 7.9% to £380m, up from £350m.
Clancy said the firm is targeting "double digit" annual revenue growth over the coming years. Over the past four years T&T has grown by an average of 13.5% per year.
Clancy said the infrastructure and property markets remained strong.