Construction costs in London set to rise 2.8% in 2018 compared to 3.9% in 2017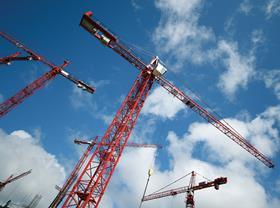 Growth in London's construction costs are expected to ease this year, as the industry maintains its watch on the terms of Brexit, according to Turner & Townsend.
Costs in the capital are set to rise 2.8% in 2018 compared to 3.9% in 2017, according to the consultant's International Construction Market Survey 2018.
Labour costs across the UK have risen by 3.1%, with London being the most expensive place to secure workers, with the average hourly rate now sitting at £34.
Steve McGuckin, global head of client programmes at Turner & Townsend, said Brexit was responsible for the waning cost increase.
He said: "There is a confidence issue in London to do with Brexit. Output has reduced in the past year and there is a view it will reduce a bit again this coming year.
"As long as we keep steady as we move through Brexit in the next few years it will be fine."
While construction cost growth is expected to ease in London, it is still 27.7% more expensive to build in the capital than the UK average.
McGuckin said inflation in London's commercial sector was likely to outstrip the rest of the sector (2.8%) with cost increases expected to be between "3% and 4% in the next year or so".
McGuckin highlighted skills as a key issue for the market moving forward: "We need to adopt digital tools, modern manufacturing methods and automation if we are to ease the pressure on resources and help attract new talent to our dynamic sector.
"We need a fundamental shake up of the industry model to incentivise this investment, otherwise there is every excuse not to change. Projects need to be set up to deliver better performance from the construction supply chain – rewarding innovation in methods and materials which ensure better outcomes for the communities we build for."
The survey found the skills crisis meant labour costs had increased by 3.1% to an average of £27.90 an hour across the UK.
Elsewhere in the UK, developer activity in key cities including Manchester and Birmingham, on the back of High Speed 2, is contributing to rising construction costs across both regions.
Globally T&T forecast 4.3% in construction costs – placing pressure on labour and resources.
New York remains the most expensive city to build in, with the average cost of construction climbing 3.5% to $3,900 (£2,787) per sq m in 2018.
The US city is followed by San Francisco, $3,737 (£2,670) per sq m, Hong Kong, $3,704 (£2,640) per sq m, Zurich, $3,652 (£2,752) per sq m and London, $3,618 (£2,677) per sq m.
Skills shortages have been a major force behind cost escalation in the top markets, with labour rates soaring by 10% in the last year, with New York construction workers commanding an average cost of labour of $98.30 ($72.29) an hour.
The survey analyses input costs – such as labour and materials – and charts the average construction cost per sq m for commercial and residential projects in 46 markets around the world.