Increased paperwork and red tape will see hold-ups at ports, consultant adds, as EU trade talks drag on until Sunday
As Boris Johnson returned home from talks with the EU last night, Turner & Townsend has become the latest firm to warn that delays getting materials into the country from the EU will increase once the Brexit transition period comes to an end – with or without a trade deal.
The prime minister and the EU agreed to continue talks for another 72 hours with both sides saying they should come to a deal or no deal outcome by Sunday.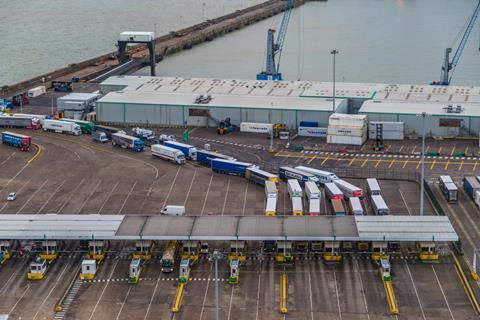 Yesterday, the former head of the civil service Bob Kerslake, now the chairman of framework supplier Pagabo, warned "the uncertainty and potential costs could have a material impact on how fast we are able to get on with major projects. There is a lot hanging on these last-minute negotiations."
But T&T has said construction must brace itself for delays to materials getting into the country from the start of next month after the transition period has ended because of the time it will take for new customs systems to bed in.
Labour MP Rachel Reeves has raised concerns with her opposite, chancellor of the duchy of Lancaster, Michael Gove, over how many of the 50,000 customs agents the government said would be needed after Brexit have been trained and recruited.
In its latest UK market intelligence report, T&T said: "The ending of the transition period will see tariffs imposed on EU imports, pushing up costs. Increased friction at the UK border – with import shipments subject to customs checks and new paperwork – will also make delays more likely."
T&T said that figures from the business department showed that 59% of imported materials and components used on UK building sites in 2019 were sourced from the EU.
It said clients should be finalising their risk management strategies, adding that they might have to accept budgets heading north to take into account of the extra cost.
T&T added: "Clients will need to decide exactly how these twin risks – cost and delay – are shared between themselves and their supply chain.
"A balanced approach might be for suppliers – who are most closely connected to logistics chains – to shoulder the delay risk, with the client factoring tariffs, and corresponding controls, into its cost planning."
The consultant said Brexit uncertainty and the second wave of the covid-19 pandemic meant a V-shaped recovery next year was no longer likely, adding that clients must act now to avoid a disrupted start to 2021.
T&T is expecting a -1% tender price deflation in real estate but said planned government spending plans in infrastructure meant this sector was looking at a 1.5% growth in tender prices.