Taylor Wimpey has recorded a 7% increases in home completions in 2015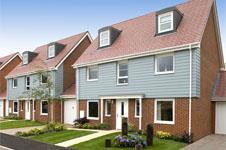 Housebuilder Taylor Wimpey has announced an improved financial performance for 2015 in a trading update.
The firm said total home completions for the year increased by 7% to 13,341, of which 19% were affordable, compared to 12,454 in 2014 of which 17% were affordable.
The company's UK order book at the end of the year stood at £1.8bn, representing 7,484 homes.
Chief executive Pete Redfern said the firm's strong trading performance had seen the firm "building more homes in than at any point in the last six years and delivering a record operating profit margin of over 20%".
Taylor Wimpey said it had seen a "meaningful improvement" in the market for its Spanish business in 2015, completing 251 homes there during the year. It is expected to deliver an improved operating profit.
The firm welcomed the government's renewed commitment to housing delivery and said it plans to look into the detail of the Starter Homes initiative, when available, to assess the investment required in skills and resources to deliver the scheme.