Supermarket slashes its store building programme further and cancels 49 planned major stores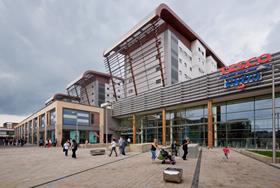 Tesco has announced it will halve its capital expenditure to £1bn in its next financial year, as part of a radical overhaul to turnaround the troubled retailer.
Britain's largest grocer has also decided to cancel 49 planned major store developments across the country, representing 1.8 million sq ft of floor space.
In a trading statement this morning, Tesco's chief executive Dave Lewis also announced the retailer will close 43 unprofitable stores and its head office in Cheshunt, start a consultation to close its defined benefit pension scheme and dispose of some of its subsidiaries.
But of most relevance to the construction industry was the supermarket's plan to slash its capital expenditure to £1bn in the 2015-16 financial year, down from the £2.1bn planned expenditure this year.
The lion's share of Tesco's capital expenditure programme is spent on developing new stores, or on store upgrades and refreshes.
In a presentation and question and answer session following the announcement Lewis declined to name which planned store developments have been cancelled, and also which existing stores will be closed, saying more information will be disclosed once local stakeholders in each case are informed.
Lewis said the firm's review of its property pipeline was "still ongoing". He denied that the quality of Tesco stores would suffer from the reduced capital expenditure: "We are going to have to be more creative about the space we still have."
Tesco's chief financial officer Alan Stewart said the drastrically reduced capital expenditure (cap ex) figure for next year was "the right level of cap ex" for the business and advised that Tesco management is not planning for the figure to "bounce back" in future years.
Another area slated for major reduction is staffing levels, with Tesco today announcing plans to reduce its expenditure on its workforce by 30%, with an unspecified number of job losses.