Proposals for airport expansion at Heathrow and Gatwick make Davies Commission shortlist, with Thames Estuary plan to be examined further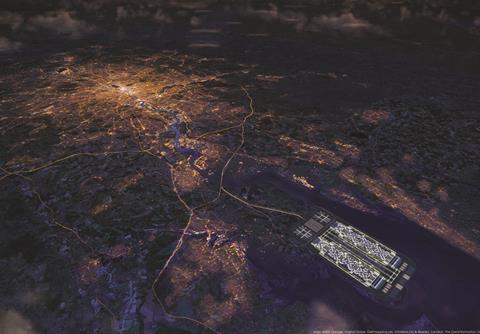 Heathrow and Gatwick have made the shortlist of options drawn up by the Davies Commission for the expansion of airport capacity in the south-east of England, but a proposal for a new airport in the Thames estuary remains in the running, for now.
The interim report by Sir Howard Davies, published this morning, shortlisted three options for airport expansion - two of which involve increasing capacity at Heathrow, either through a new third runway or through expanding the existing northern runway - and the third involves a new runway at Gatwick.
However, the commission also said it would further examine the proposals for an airport on the Isle of Grain in the Thames Estuary and make a decision in the second half of 2014 on whether they should be included on the shortlist.
Architect Foster + Partners is working with engineer Halcrow on plans for a four-runway airport with a capacity for 150 million passengers, to be built on a platform on the Isle of Grain in the Thames Estuary (pictured).
Speaking on the BBC's Radio 4 Today programme this morning, Sir Howard said the decision to examine further the Thames Estuary option had been taken as it was difficult to directly compare proposals for the expansion of existing airports with a proposal for an entirely new airport hub.
Sir Howard said further feasibility studies were therefore required before a decision whether or not to shortlist a possible new estuary airport could be taken.
He said: "We've gone backwards and forwards on this at the commission, I'll be frank, and the issue is it's quite difficult to compare a proposal produced by a current airport operator for an extra runway - which is a very buttoned-down proposal, they know how to run an airport, they've demonstrated that - with a much more extensive proposition for shifting the economic geography of the south-east of England by creating a new pole of economic development out in the Thames Estuary, trying to create a climate in which another million people can live in London out towards the east etc.
"There's a whole series of issues related to economic development which are quite difficult to assess in the same way.
"So, we think to be fair to these ideas, there were seven or eight of them, we've narrowed it down to one and we have said that we are going to do some very specific pieces of work, one on looking at the environmental implications, is it actually feasible, because there are some important environmental sites, looking at whether surface access to it could be plausibly created at a price anywhere near reasonable and also whether the airlines would actually move to it.
"And we're going to do those specific pieces of work over the next few months and decide over the summer whether it should be shortlisted or not."
He said there had been no pressure from the government to include options other than another runway at Heathrow.
"If they'd said that I'm afraid that's not actually what we've proposed because what we've said is that some time next year we will decide whether or not this is an option. We're not going to leave this uncertain until the next election.
"The shortlist that we've got is exactly the shortlist that we ended up with at the Commission before we talked to anybody.
"The estuary one, as I say, we've been backwards and forwards, backwards and forwards as to whether we were being fair to this proposal and we've concluded that the right answer is to do a bit more work to put it on all fours with the others.
"But in the meantime what we're really pushing forward with is a detailed analysis of the second runway at Gatwick and the third runway proposals at Heathrow."
Sir Howard added that he thought the UK needed one additional runway by 2030 to keep up with rising demand.
"We think that if you look at the demand for aviation, we think it's going to grow. We don't think you that can just, as it were, 'predict and provide' as people have done in the past, because we have to think about aviation demand within a climate change context, and therefore we think that what we need is one net new runway - I say 'net' because there are some proposals kicking around which would involve building more runways and taking some out of commission - but we think one net new runway by 2030 is what's required.
"So essentially it is either building another one at Heathrow or building another one at Gatwick, but we are also looking a bit further at one of the Estuary options in case that could be a serious option, which we haven't been able to decide yet."
Also, excluded from the detailed examination process were options for expansion of Stansted (developed by architect Make) and Birmingham airports.
A final report is due to be submitted to government in summer of 2015, after the general election.
The report also contains recommendations to the government for immediate action to improve the use of existing runway capacity.
A package of surface transport improvements to make airports with spare capacity more attractive to airlines and passengers, including: the enhancement of Gatwick Airport Station; further work to develop a strategy for enhancing Gatwick's road and rail access; work on developing proposals to improve the rail link between London and Stansted; work to provide rail access into Heathrow from the south; and, the provision of smart ticketing facilities at airport stations.
Trials at Heathrow of measures to smooth the early morning arrival schedule to minimise stacking and delays and to provide more predictable respite for local people
An 'Optimisation Strategy' to improve the operational efficiency of UK airports and airspace
The establishment of an Independent Noise Authority to provide expert and impartial advice about the noise impacts of aviation and to facilitate the delivery of future improvements to airspace operations
Th Commission also said it would review the case for a high speed rail spur from HS2 to Heathrow as part of a review of surface transport options aimed at improving access to airports.
Reaction to Davies Commission's interim report:
Speaking on BBC's Radio 4 Today programme, Boris Johnson welcomed the move to further examine the Thames Estuary proposal and dismissed the idea of expanding Heathrow airport as "completely crackers".
The mayo of London said: "It's very, very good news that there's a very clear choice now because it's either basically Heathrow or you go for a new option an that's clear from what he's been saying and clear from the logic because Gatwick alone won't do the job, if you have an extra runway at Gatwick then it won't make a bean of difference because the airlines will still want to go to Heathrow.
"The real issue is the capacity crunch at Heathrow and how you deal with that and our contention, Londoners contention is that building another runway in the west London suburbs is completely crackers and all it will do, of course, is simply feed the beast, it will get bigger and bigger and as soon as you've completed a third runway, which wouldn't be until 2030 at the very earliest, or 2029, 2030, there would be insatiable demands for a fourth runway.
"It would be catastrophic for London, it would be catastrophic for quality of life. All our policies about improving quality of life in this city, you'd be consigning millions of people to extra noise pollution and, now, the point about the estuary option, and I think this is where we can really work with Sir Howard to allay some of his anxieties, because I don't think it costs anything like as much as I think he's been saying, we think that the transport infrastructure alone comes in at about £20bn then, of course, you've got the cost of the airport but that we think is relatively easily financed by international investment."
Mary Creagh, Labour's shadow transport secretary, said Labour would "scrutinise the report".
"It is vital that we take decisions about our airport capacity, including in the South-East, which are important for Britain's competitiveness.
"It is good to see that the original Heathrow proposal for a third runway, of which we were sceptical, has been taken off the table, and that this work is taking place within the context of our ongoing climate change commitments.
"As the Commission now looks in greater detail at specific proposals it remains crucial that they take into account the need to minimise local and environmental impacts of increased capacity."
Business secretary Vince Cable, who is Liberal Democrat MP for Twickenham in London's south-west, said he remained opposed to the expansion of Heathrow.
He said the Liberal Democrats were the only government party who are "firmly united locally, nationally and in Europe against expansion at Heathrow".
He said: "The Davies Commission interim report has put Heathrow at the front of its thinking which is questionable economically, damaging environmentally and probably undeliverable politically.
"My strong view is that the Davies review should not decide to press ahead with Heathrow options and I will be making that view known in the strongest terms.
"I fully support the need to improve UK business links with airports in the emerging markets of Asia which is important for jobs, but this could be achieved more quickly by reforming and reallocating airport slots; by building up point to point services; and by strengthening the capacity of UK regional airports.
"Such is the impact of noise on hundreds of thousands of people in London that pushing ahead with Heathrow expansion is almost certainly the worst option for expanding airport capacity."
John Longworth, director general of the British Chambers of Commerce, said: "Businesses across Britain need the very best air links if they are to deliver growth, jobs, and investment. Companies have long since understood that the south-east of England requires additional runway capacity, and we are happy that the Davies Commission has recognised this.
"It is vital that we have sufficient aviation capacity if we are to rebalance the economy towards exports, as well as encourage inward investment and tourism.
"For far too long Britain has dithered on capacity while others have delivered, and as a consequence we are rapidly losing ground to competitor countries.
"Any option that is funded by the private sector, and can be delivered in a short timeframe, should be allowed to proceed. A decision simply must be implemented as soon as possible - playing politics and putting off important decisions will only place the UK at a further global disadvantage."
John Cridland, CBI director-general, said: "We welcome the interim report of the independent Airports Commission, which is emphatic about the need for new runway capacity.
"There is now overwhelming evidence that direct flights open doors to new trade, but with capacity in the south-east set to run out as early as 2025, we need to see urgent action as soon as the Commission's final recommendation is delivered to government in summer 2015.
"It is no longer acceptable to bury our heads in the sand on this."
Baroness Jo Valentine, chief executive of business lobby group London First said: "This is the first step to delivery. The government must now act on the Commission's short term recommendations and all parties must back this process to its conclusion.
"The Commission must not join a long line of technocratic exercises spanning 50 years of inaction.
"Political leadership will be required to stay the course. The options for new runways must now be worked up so they can be compared, judged on a like-for-like basis and put to public consultation before the General Election."
"If the Airports Commission is not to be consigned to a long line of technocratic exercises - and inaction - over the last 50 years, we must not start unpicking its rationale.
"Tough decisions have been made, and tougher decisions are to come. Now is not the time to unravel the purpose of this Commission".
"We welcome the step change improvements to rail links that are recommended, particularly to Gatwick and Stansted, and which are poor compared to Heathrow and international rivals.
"World class rail links will spur these airports' ability to compete for new airlines and passengers ahead of new capacity, extending the use of their assets and growing London's access to global markets".
"We have campaigned hard for this because the economic argument for having more flights could be lost if we don't win the hearts and minds of people who worry their lives will be blighted by noise.
"An independent noise authority would make sure that all airlines fulfil their obligations and give local communities the assurance that someone is looking out for them. It would also give policy makers a source of objective information on which to make their decisions."
"This is a missed opportunity. Heathrow is full, and demand for it is growing, so in the short term it is vital Government acts urgently to ensure Gatwick and Stansted are strengthened to extend the use of their spare capacity.
"Freedom from out of date price controls and a step-change improvement to their rail links would spur their ability to extend London's links, while Heathrow runs at capacity for the next decade at least. We welcome the measures proposed to cut flight delays and stacking at Heathrow, a necessary condition for more flights. These must be delivered in the short term."
Michael O'Callaghan, director of aviation at Morgan Sindall, said he was happy to see two airports where the firm had worked for 25 years at the forefront of the race.
He added: "I think a Thames estuary airport would be a big boom for the construction industry as a whole and we would love to be involved. We have been talking to people and putting our tupence in then requested."
However, he said the commission's proposals, whatever they eventually were, needed cross-party political support.
He said he hoped that economic arguments win round local opposition."What people are slowly realising is the amount of local jobs hanging on the back of this," he said.