Industry welcomes PM's £2bn funding announcement, but warns 'warm words won't put roofs over people's heads'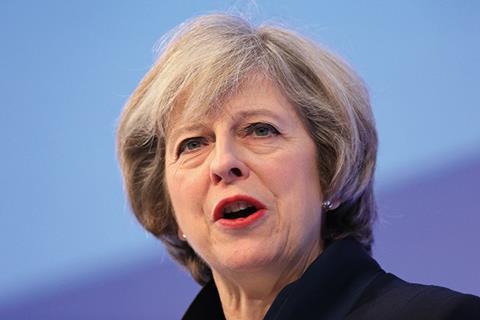 Theresa May put the ball of building new affordable homes firmly in the developers' court today after she announced an additional £2bn in government spending to boost construction activity.
Speaking at the Conservative party conference in Manchester, the Prime Minister said the government would ensure that land was available and that developers' employees had the necessary skills.
But addressing building firms, she warned "you must do your job and build when the necessary planning permission is given".
Promising what she called "a new generation" of council housing, May said local authorities and housing associations will be able to bid for a chunk of the money to boost house building programmes across the UK. The government had now promised nearly £9bn to build new homes across the UK, she added.
In her speech, which was punctuated by fits of coughing – and a protester handing her what appeared to be a P45 requested by a 'Boris Johnson' – May said: "We have not been building enough homes for the last 30 to 40 years, a situation which has been disastrous for young people in this country."
"However housebuilding has increased significantly since 2010, and this government has developed things further with our White Paper on housing.
"We will encourage local authorities and housing associations to bid [for some of the £2bn on offer] and we will be giving councils new powers so that developers can actually build on land when given planning permission."
May, who highlighted the need for more homes available for social rent, said she would personally oversee the government's programme, which would make the dream of owning a home a greater reality for more Britons.
Addressing those looking for a home, May added: "It won't be quick or easy, but help is on the way."
Industry reaction to the Prime Minster's announcement was welcoming but expressed the need for more detail.
RIBA president Ben Derbyshire said that while it was good news that the Prime Minister has made fixing the housing crisis a central priority for the government, "the extra £2bn promised today just won't meet the scale of investment needed to address decades of under-supply. The government spends billions of pounds a year subsidising private landlords because of a shortage of social housing.
"They need to dial up the approach and investment, moving beyond describing the problems and big rhetoric to delivering solutions and the investment that will make the difference. Warm words won't put roofs over people's heads, instead we need a concerted programme of public investment in new social housing across the country and that means spending a lot more than was announced today."
A spokesman for the Home Builders Federation said: "It is clearly positive that government is focused on increasing housing supply, both private and affordable.
"If we are to address our chronic shortage we need to build more homes of all types and tenures. We have seen huge increases in supply in recent years but the industry is committed to working with government to build even more homes in the future."
Melanie Leech, chief executive of the British Property Federation said the UK needed a housing market "firing on all cylinders, with the right signals from government supporting all tenures.
"For example, council housing, home ownership and Build-to-Rent must all be supported if government wants to effectively address the underlying issue of affordability.
"Government has called for family-friendly, longer tenancies in the private rented sector, to ensure renters have more security and the Build-to-Rent sector has responded by pledging its commitment to this. Our ambition is that longer tenancies become a trademark of Build-to-Rent."
Manchester-based housing association Trafford Housing Trust, who in partnership with L&Q is aiming to build at least 2,000 new homes across the north west over the next four years – half of which will be affordable homes – welcomed May's announcement.
Chief executive Matthew Gardiner said: "Today's announcement is a welcome approach to solving the housing crisis in this country. For far too long the emphasis on homeownership has left the many families who cannot afford to own with only the expensive, insecure and poor quality offer of much of the private rented sector.
"Successive governments have ignored the fact that a well-functioning housing market needs the underpinning of a modern and adequate social housing element.
"By bringing social housing to the centre of housing strategy, and by giving the tools that local authorities and housing associations need to work together in effective partnerships, the prospects for these families are significantly improved."
Chartered Institute of Housing chief executive Terrie Alafat said May's announcement was a "step in the right direction".
He added: "We have been saying for some time that social rents, which are significantly cheaper than market rents, are the only truly affordable option for many people on lower incomes, so the recognition that we need more of these homes is a vital step forward.
"It's also encouraging to hear that Theresa May agrees councils have a central role to play in building the homes we need at prices people can afford.
But Alafat said the detail of how new homes will be funded and how many will be for the lowest social rents would be crucial.
"The number of homes for social rent funded by the government collapsed from 36,000 to just over 1,000 between 2010/11 and 2016/17. Reversing this trend will be a significant task – how much of this new funding will be dedicated to building these kinds of homes?"
As well as the £2bn housing package, Theresa May promised the creation of a swathe of technical institutes to raise skill levels. She also said that while EU workers felt "unsetlled" in the wake of last year's referendum said they were "welcome" in the UK.