Curtis Hixon Park forms centrepiece of waterside regeneration in Florida city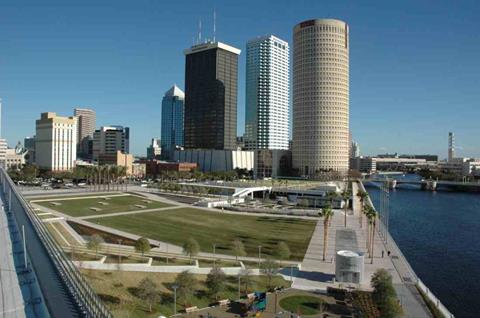 Curtis Hixon Park showing museum
Landscape architects Thomas Balsley Associates have designed a 9 acre 'front lawn' for the new Tampa Museum of Art and Glazier Children's Museum in Tampa, Florida.
The new public space, known as Curtis Hixon Park, is a central part of the regeneration of the city's downtown waterfront district.
The park aims to fuse recreation, urbanism, culture, heritage and entertainment in an outdoor "urban living room" along the Hillsborough River.
It replaces the old museum and parking garages that blocked access to the river.
Designer Thomas Balsley said: "Successful 21st century urban parks must balance creativity and innovation with proven recipes for design programs.
"We've created spaces ranging in scale from large open lawns to small intimate overlooks and garden rooms, able to accommodate large or small events."
Sculpted topography includes lawn panels stepping down from the museum terraces and garden promenade, while the southern edge includes a linear park pavilion with toilets, a café, and a visitor centre.
Along the river are a contemporary play area and urban dog run that take their sculptural cues from the Museum of Art.