CBI and Aecom survey finds widespread concerns over rail, road and aviation pipelines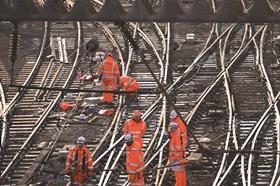 Around three quarters of firms fear key infrastructure projects will not be delivered, according to a new survey by business lobby group the CBI and consultant Aecom.
Nearly three quarters (74%) of those working within the rail sector said they were not confident Network Rail would be able to deliver the rest of its £38bn Control Period 5 programme running to 2019, while only 32% believe the industry has the capacity to deliver it.
Meanwhile, infrastructure firms doubt Highways England's ability to deliver its £15bn Road Investment Strategy, with 74% fearing it won't be delivered.
In addition, nearly three quarters of firms (73%) across all sectors do not believe a new runway in the South-east will ever be built - despite the government giving its backing to the expansion of Heathrow last month.
The CBI and Aecom surveyed 728 UK businesses over the summer. Just under half said they were primarily an infrastructure provider, with the others hailing from other sectors of the economy.
Confidence that infrastructure will improve during the course of this parliament has dropped to 27%, down from 43% in last year's survey. The majority of firms are not optimistic that infrastructure in aviation (74%), energy (73%) and roads (69%) will improve.
Aecom is therefore calling on the government to reaffirm its spending plans in the Autumn Statement later this month and to press ahead with implementing policy decisions to ensure projects are delivered in full this parliament.
Richard Robinson, Aecom chief executive for civil infrastructure in Europe, the Middle East, India and Africa, said: "As the UK plans for post-Brexit scenarios, the role of infrastructure is more vital than ever. Competing more directly on the global stage requires strong foundations to secure the nation's international standing.
"Developing truly world-class national infrastructure is therefore of paramount importance. It will enable British industry to innovate, expand and flourish, strengthening the UK's reputation as a good place to do business. High-profile, transformational projects such as HS2, Hinkley and Heathrow are vital but must not be prioritised to the detriment of the Highways England and Network Rail schemes that keep our country running."
Carolyn Fairbairn, CBI Director-General, added: "If we don't get spades in the ground on existing plans, it's clear we could put a major dent in the competitiveness of British business – and the UK itself. This is something we cannot afford do, especially during this period of uncertainty as the UK leaves the EU. Firms are ready and willing to work with the Government to develop the skills and capacity to deliver on plans."