BuildForce targets former military personnel to join industry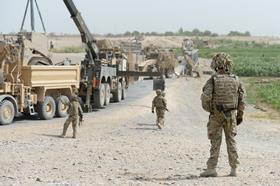 BuildForce, a programme aiming to reduce the skills gap while offering a second career to military personnel, has just found a job for its 100th ex-service person.
Nick Channer, who recently joined construction logistics firm Wilson James as its new chief of staff, became the organisation's 100th placement following a 35-year career in the British Army.
Wilson James is a founding partner of BuildForce, along with EY, Lendlease, Morgan Sindall and the BuildForce Alliance of industry employers.
Angela Forbes, chair of BuildForce and commercial director of Lendlease, said: "We will continue to bring in the diverse talents of our service leavers into construction and look forward to our next 100."
BuildForce, which was founded in late 2016, provides service leavers with mentor support, identifying transferable skills, training, CV advice, work placements and job opportunities.