Construction industry waits to see what new administration has up its sleeve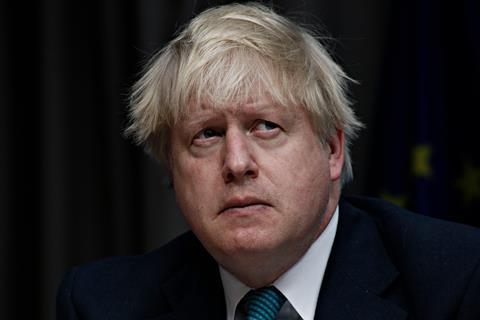 The Conservative party has swept to victory following yesterday's general election, securing a 79-seat majority, with one constituency still to announce a result at the time of writing.
Labour was wiped out in areas it had held for decades, particularly the north east and the Midlands, while the Lib Dems saw their leader, Jo Swinson, lose her seat in Dunbartonshire East to the SNP.
Market reaction has been swift, with the pound jumping sharply against the euro and dollar, to more than 1.20 and 1.34 respectively.
The immediate implications of Boris Johnson's historic win for the construction industry remain unclear, but the sweeping away of uncertainty around Brexit will be of considerable comfort to many who feared months, perhaps years, of deadlock continuing with the possibility of a hung parliament.
The Conservatives' manifesto had promised to build a million new homes over the course of the next five-year parliament, although at 200,000 homes a year this is less than the last Tory administration said was its target of 300,000 a year by the mid-2020s.
The party also pledged to plough £100bn over five years into road, rail and other infrastructure schemes, including £4bn to boost public transport in the North and the Midlands.
The new government will outline its plans in a Queen's speech next Thursday.
Industry will be keenly awaiting announcements on key infrastructure schemes such as HS2 and the Heathrow expansion, as well as further support for housebuilders and small businesses in the sector.
Will Scoular, co-head of origination at real estate lender Investec Structured Property Finance, said the Conservative's majority should mean Johnson getting his Brexit deal through the House of Commons, allowing Brexit by 31 January 2020, although he warned uncertainty "will not though be eliminated as questions over the UK's permanent trading relationship persist.
"Still the removal of some of the Brexit fog should help lift business investment, UK growth and with it housing activity."
Michael Stone, chief executive and founder of estate agency Stone Real Estate, said the new build housing sector could expect a spike in activity in the coming year "as pent up market apprehension surrounding our political landscape is relieved to a degree, and more homes are built, more homes are bought, and market sentiment receives a well-needed boost".
Alan Fogarty, sustainability partner at engineering consultancy Cundall, said the outcome of the election was "a positive one for climate change policy. In all this debate about climate action, energy resources and environmental policy, we should remember that money is a resource too, and we need to use that wisely in order to get a more sustainable solution.
"Now that we have a new government, we need to get on with the work of combatting climate change a goal that this industry is fully behind. As an industry we need to work with the government to deliver a net zero carbon built environment by 2050."
Congratulating Johnson on his victory Richard Robinson, chief executive of consultant Atkins UK & Europe said the firm was "looking forward to supporting the new Conservative government as it delivers the infrastructure needed to drive economic growth across the UK and set us on a path to a net zero future".