Pressure mounts on high speed rail project
Several Conservative MPs have claimed the true cost of HS2 will be more than £100bn.
The pricetag for the high-speed rail stands at £56bn, although the last official cost estimate for the scheme – dating back to 2015 – put the likely figure at £65bn.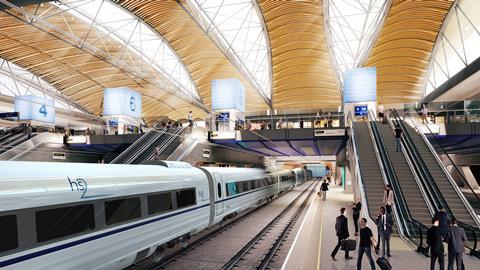 But in a debate led by former House of Commons leader Andrea Leadsom on Wednesday, opponents of the scheme argued the actual cost would be substantially higher.
Tory backbencher Antoinette Sandbach said it "now looks like a certainty" that HS2 will cost more than £100bn.
And she was joined by fellow Tory MPs Andrew Bridgen and Victoria Prentis, as well as Labour MP Barry Sheerman, who all repeated the figure.
Bridgen told the House: "It is clear the project will be far in excess of £100bn."
Responding to the debate, transport minister Nusrat Ghani said: "There is one budget and one timetable…I stand here to state confidently that the budget is £55.7m and that the timetable is 2026 and 2033."
Boris Johnson, the favourite to be named new UK prime minister later this month, has already indicated to backers, including Leadsom, he would order a reassessment of the business case for HS2.
Yesterday it was revealed that HS2 has scrapped the process to find a contractor to build a £435m station in the middle of Birmingham because not enough firms were prepared to shoulder the risk to build it.
The railway said it is having to start again for the job at Curzon Street, designed by Grimshaw Architects, and will be hosting an industry day next Friday to work out what to do next.