Firm beat rival McGee to pick up demolition and enabling works
Careys has won the first package of works for the conversion of the former US embassy in Mayfair into a luxury hotel.
It is understood to have beaten rival specialist contractor McGee in a close contest to the prestigious job designed by David Chipperfield, which will see it carry out demolition and enabling works.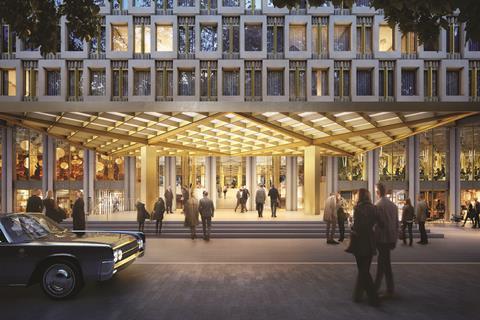 Middle Eastern-backed developer Qatari Diar's has begun forging ahead with its long-planned overhaul of the grade II-listed building after the US embassy finally moved into its new Kieran Timberlake-designed cube in Nine Elms this month.
Qatari Diar acquired the site in 2009 from the US government for "peanuts" according to current US president Donald Trump, who is due to give a speech in Davos, Switzerland today, after it decided to relocate its UK home to Nine Elms in Battersea, south London.
It received planning approval in November 2016 to turn the building, designed by Eero Saarinen, into a 137 room hotel with five restaurants, six flagship retail units, spa and 1,000 person ballroom, and has been looking for a contractor to carry out the demolition and enabling works phases since last May.
The changes to be carried out include the addition of a double-height sixth storey, set-back roof storey, removal of the glacis and demolition of parts of the interior.
The wider project team, which includes Gardiner & Theobald as cost consultant, Buro Four as project manager, AKT II as structural and façade engineer, Hilson Moran as building services, fire engineer and ecology consultant, and BDP as landscape consultant.
Qatari Diar chief development officer Jerry Holmes has previously called the proposal "a major opportunity" for the area.
David Chipperfield has said his designs "respect the significant architectural and structural characteristics of Eero Saarinen's design, with a focus on restoring and enhancing this unique building to secure its long-term future at the heart of Mayfair."
Rosewood Hotels & Resorts will manage the new hotel once completed.
Qatari Diar and Careys have been contacted for comment.