Zero Carbon Hub report says overheating can harm reputation but is not seen as a priority by housebuilders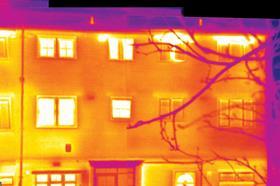 Over two-thirds of housing providers have experienced overheating problems in their housing stock, according to a report published by the Zero Carbon Hub.
According to a survey included in Zero Carbon Hub's report Overheating in Homes: The Big Picture, published this month, 53 out of 75 housing providers surveyed said they had to deal with overheating issues at some point over the last five years.
The housing providers surveyed were a mix of housebuilders, developers, private and social landlords and local authorities.
The report warns overheating housing stock can damage housing providers' customer relations, harm their reputation and lead to costly remedial works.
Zero Carbon Hub adds that businesses could be negatively impacted by the problem, due to residents in overheated homes suffering from heat-related sleep deprivation or other heat-related health issues, resulting in sick days, accidents or reduced productivity.
Zero Carbon Hub argues that the problem is exacerbated by the lack of an agreed definition as to what constitutes overheating in homes.
Government guidance on overheating merely states that housebuilders must make "reasonable provision to limit heat gains", with no criteria or thresholds specified.
The report found that overheating was consequently a low priority for housebuilders, who instead said they focused on other areas of building performance where there are clearer legal requirements.
The lack of an agreed definition on overheating can lead to disputes with environmental health officers over temperature in the housing stock, the report finds.
According to some industry definitions, as much as one-fifth of the housing stock could already exceed thresholds for overheating, even in cooler summers, Zero Carbon Hub said.
The report calls on housebuilders to make specificiations to avoid overheating part of contracts with architects and designers.