Coffey Architects, Duggan Morris and Haptic among UK architects appointed for residential project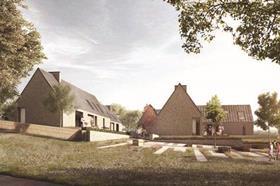 Coffey Architects, Duggan Morris and Haptic are among the UK architects appointed to work on residential projects for a €400m (£318m) development near Prague.
Hall McKnight, Piercy & Co and Eldridge Smerin were also selected from the shortlist in a competition organised by Malcolm Reading Consultants.
In all, seven UK and three Czech practices were successful.
Brits John Pardey and McGarry-Moon complete the list along with Czech architects ADR, AI Design and Cigler Morani.
The winners will each design some of the 220 residential units at Oaks Prague, a high-end "residential and lifestyle development" outside the Czech capital which will also include a golf course, hotel and spa.
Work on the 140ha site is due to begin in the spring and take about a year. The entire development is expected to take between four and five years to complete.