Cost consultant warns of threats to UK economy but holds tender forecasts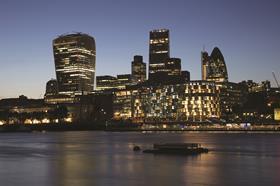 Cost consultant Alinea has warned the UK economy could be in "a bubble that will burst" as it faces threats from global volatility and a potential 'Brexit'.
In its latest market report, shared exclusively with Building, Alinea warns the UK is navigating "unchartered waters".
The firm notes that while the country has so far been little affected by external markets and events, such as the collapse in oil price and China's financial instability, the inflow of investment money has resulted in inflation of asset values creating a bubble that could burst if investment money dries up.
Despite these concerns, Alinea held its tender cost inflation forecasts at 5% for 2016 and 4% for 2017.
The consultancy expects a "purer" form of tender cost inflation going forward, arguing much of the volatility of recent pricing is now in the system.
Current volatility has created a "fragile and unpredictable" global economy, which is seeing nervous investors move from a "bull" to "bear" market, Alinea reports.
For example Saudi Arabia is looking to slash its $98bn budget deficit after the International Monetary Fund warned it would run out of money in five years if oil prices do not rise.
The skills crisis also continues to hinder optimism as it creates "pockets of volatility" in the UK, Alinea said, while in 2014 the top twenty contractors had a combined writedown of £200m giving rise to the view that the construction industry is in a "more precipitous" situation than previously thought.
The UK is also yet to say if it will exit the European Union and London will vote for its new mayor, while the US will vote for a new president in 2016,all of which have a potential fall-out for the UK construction industry.