Grim economic conditions drag down construction costs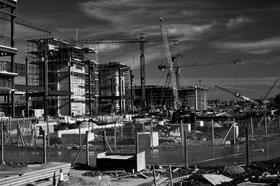 The UK is now a cheaper place to build than countries such as Qatar and New Zealand after grim economic conditions dragged down construction costs in the past year, a report by consultant EC Harris has found.
The annual International Construction Costs Report, which benchmarks building costs in 53 countries across the globe, found the UK had slipped two places from thirteenth in 2011 to fifteenth position in 2012, when each market was ranked according to the cost of construction, with the most expensive country at the top.
Although when ranked alongside all the other European markets the UK actually moved up a place, rising from eighth position in 2011 to seventh in 2012, as over the past twelve months prices dropped more severely in Italy than in the UK.
The report suggested construction costs could be taken as a reliable bellwether for global economic trends, with Europe responsible for just five of the top ten most expensive markets in this year's report, compared with eight entrants in 2011.
Conversely, construction costs in markets that have been less impacted by the global recession are continuing to increase with countries like Canada, Australia and Qatar all moving up the league table compared with their 2011 position.
The Asia-Pacific region now has four of the top ten most expensive markets with Australia Japan, Hong Kong and Singapore occupying third, fourth, sixth and seventh place respectively.
Canada also figured in the top ten, jumping two places from last year with construction costs on average 14% higher than in 2011.
Mathew Riley, Group Head of Cost and Commercial at EC Harris said: "Those countries that are least constrained by debt problems are continuing to invest in construction activities to help fuel their continued growth.
"In the UK however, a slow economic recovery combined with a lack of private investment, means that construction workload is unlikely to increase until 2014 at the earliest.
"London's office sector is a potential bright spot, however even then market uncertainty and difficulty in securing funding means that opportunities may not be fully realised."
Highest construction costs globally
| | | |
| --- | --- | --- |
| | 2012 | 2011 |
| 1 | Switzerland | Switzerland |
| 2 | Denmark | Denmark |
| 3 | Australia | Sweden |
| 4 | Japan | Japan |
| 5 | Sweden | Australia |
| 6 | Hong Kong | France |
| 7 | Singapore | Germany |
| 8 | Canada | Austria |
| 9 | France | Belgium |
| 10 | Germany | Canada |
| 13 | / | UK |
| 15 | UK | / |
Highest construction costs in Europe
| | | |
| --- | --- | --- |
| | 2012 | 2011 |
| 1 | Switzerland | Switzerland |
| 2 | Denmark | Denmark |
| 3 | Sweden | Sweden |
| 4 | France | France |
| 5 | Germany | Germany |
| 6 | Austria | Austria |
| 7 | Belgium | Belgium |
| 8 | UK | Italy |
| 9 | Italy | UK |
| 10 | Netherlands | Netherlands |