The £8m job will have to comply with British building regulations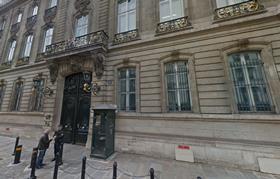 The Foreign and Commonwealth Office is on the hunt for a contractor to refurbish its Paris embassy.
In a prior information notice published to the Official Journal the government department confirmed it was starting the process of appointing a contractor to carry out an £8m refurbishment of the Chancery Building of the British Embassy on Rue du Faubourg St-Honoré in Paris.
The project involves structural alterations to the building, internal remodelling and redecoration. All electrical services within the building also need to be replaced.
The prior information notice said while there was an opportunity to partially move staff out of the building, the project would need to be phased as elements of the embassy needed to remain operational at all times during the project.
Despite being undertaken in France the Foreign and Commonwealth Office said the project will be expected to substantially comply with UK building regulations.
The department is running two suppliers days, one at the Chancery in Paris on 25 July, and one for UK suppliers at King Charles Street on the 31 July.
A contract notice for the job is expected to be published in the first week in September.