House of Lords report calls for 'urgent' action from housebuilders, housing associations and government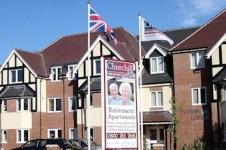 Housebuilders, housing associations and the government need to "urgently" plan how to meet the needs of the UK's ageing population a new report claims.
The Ready for Ageing report, published yesterday (March 14) by the House of Lords select committee on public service and demographic change, said that the housing market is delivering "much less" specialist housing for older people than is needed.
It commended work done by housing adaptation and repair charities in the sector but said in general the picture is bleak.
The report said: "The housing market is delivering much less specialist housing for older people than is needed. Central and local government, housing associations and house builders need urgently to plan how to ensure that the housing needs of the older population are better addressed and to give as much priority to promoting an adequate market and social housing for older people as is given to housing for younger people."
It also said that urban planning would need to change to adjust to the needs of an older population.
Gary Day, land and planning director of leading retirement home builder McCarthy & Stone, said: "The report highlights that UK specialist housing provision lags woefully behind other developed countries, with just one per cent of housing stock built as retirement housing. In the USA it is 17% and in New Zealand and Australia 13%."
Former minister Edwina Currie, who is a member of McCarthy & Stone's advisory board on ageing, said: "Older owner-occupiers are totally ignored by most planners, despite two thirds of this group living in their own homes.
"McCarthy & Stone's key recommendation to address this is to reform the housing, planning and development system so it encourages the building of specialist homes which older people can own. This would aim to give specialist housing for older people the same level of policy recognition, at a local and national level, that affordable and starter housing for young people currently receives."
A steep rise in the elderly population is predicted with a 50% rise expected in the over-65s between 2010 and 2030.
The House of Lords report said a radically different model of care is also needed to support people in their own homes and called on the government to publish a White Paper setting out its strategy.